UT Southwestern doctors deliver facts, insight from the frontlines of COVID-19.
'Our COVID-19 protocols make visiting the ER as safe as – or quite possibly ever safer than – going to the grocery store.'
'The lungs are among a few organs in constant contact with the outside world.'
The COVID-19 Trials
Dr. James "Brad" Cutrell, Medical Director of Antimicrobial Stewardship at Clements University Hospital, joins our host, Dr. John Warner, Executive Vice President for Health System Affairs, to provide an inside perspective on clinical trials and the search for coronavirus therapies.
'There is no one superfood, supplement, or magic bullet to boost immunity.'
'We have a common enemy – the best way to defeat it is with mutual support.'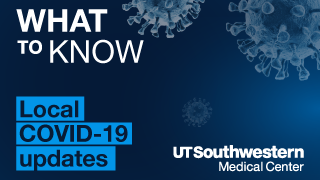 UT Southwestern specialists answer your most pressing questions about COVID-19 and deliver facts from the frontline every Friday in our new series.
We're one of the world's top academic medical centers, with a unique legacy of innovation in patient care and scientific discovery.  
Inspire others with your story of healing and recovery!