New Patient Appointment or 214-645-8300
UT Southwestern doctors deliver facts, insight from the frontlines of COVID-19.
'Our COVID-19 protocols make visiting the ER as safe as – or quite possibly ever safer than – going to the grocery store.'
'The lungs are among a few organs in constant contact with the outside world.'
The COVID-19 Trials
Dr. James "Brad" Cutrell, Medical Director of Antimicrobial Stewardship at Clements University Hospital, joins our host, Dr. John Warner, Executive Vice President for Health System Affairs, to provide an inside perspective on clinical trials and the search for coronavirus therapies.
'There is no one superfood, supplement, or magic bullet to boost immunity.'
'We have a common enemy – the best way to defeat it is with mutual support.'
Quarantine Cuisine
UT Southwestern's culinary medicine experts demonstrate how to make easy, tasty food using simple ingredients you probably already have in your house.
Easy Bean Soup
Dr. Jaclyn Albin, Director of Culinary Medicine and an internal medicine and pediatrics physician at UT Southwestern, provides a recipe for a hearty bean soup, starting with chopped and sautéed veggies that pack a lot of flavor.
Quick Personal Pizzas
Cook along with Milette Siler, RD, LD, CCMS, Lead Culinary Medicine Instructor at UT Southwestern, as she makes healthy and delicious personal pizzas from her "pandemic pantry."
Roasted Veggies
Dr. Jaclyn Albin demonstrates a quick and simple way to roast veggies using oil and seasonings. This recipe is great on Brussels sprouts, cauliflower, broccoli, red bell pepper, sweet potato, and red onion.
5-Ingredient Marinara
Learn how to make a fresh, simple tomato sauce from Milette Siler, a lead culinary medicine instructor at UT Southwestern, using only olive oil, onion, garlic, crushed tomatoes, and herbs.
Oatmeal Peanut Butter Bites
Dr. Jaclyn Albin provides an easy, healthy snack for the whole family, using ingredients you may already have in your pantry.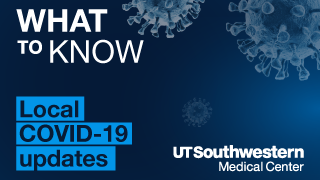 UT Southwestern specialists answer your most pressing questions about COVID-19 and deliver facts from the frontline every Friday in our new series.
We're one of the world's top academic medical centers, with a unique legacy of innovation in patient care and scientific discovery.  
Inspire others with your story of healing and recovery!