Breathing Easier: New Relief for Patients with Severe Emphysema
September 15, 2021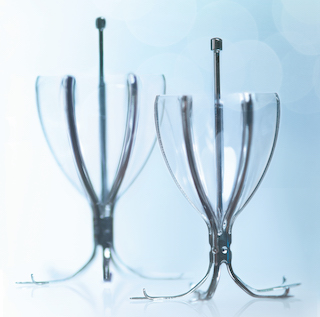 Patients who suffer from severe emphysema usually have tried just about everything to breathe easier: inhalers, oxygen, medications, and pulmonary rehabilitation.
Some have even considered lung volume reduction surgery and lung transplant to cope with the severe and progressive condition, which is often categorized as chronic obstructive pulmonary disease (COPD).
Now, thanks to a nonsurgical procedure and innovative devices that were developed through serial clinical studies at UT Southwestern and centers nationwide, those patients have another option.
Bronchoscopic lung volume reduction (BLVR) is a minimally invasive procedure – no incisions, no stitches – that employs tiny one-way valves to prevent air from entering the diseased areas of the lungs. The procedure and devices were approved in 2018 by the U.S. Food and Drug Administration (FDA) following two landmark clinical trials, one of which I was the principal investigator for at UTSW.
In a relatively short time, BLVR has become a vital piece of UT Southwestern's nationally recognized pulmonary care for patients with COPD. We have performed more than 90 BLVR procedures since June 2019, and the results have been overwhelmingly positive. Our patients have reported less shortness of breath, better lung function, higher tolerance of exercise, and better overall quality of life.
"Our pulmonary care team at UT Southwestern is dedicated to helping patients manage their COPD with the most advanced treatments as soon as they're available, and we're proud to have played a role in making BLVR a reality for patients all over the world."
Who's a candidate for BLVR?
An average healthy adult takes about 12 to 16 breaths per minute. Patients with severe COPD, such as emphysema or bronchitis, usually double that number. They are constantly short of breath, even while doing simple daily tasks such as getting dressed.
Severe emphysema patients who qualify for the procedure must be on maximum medical therapy and inhalers, which reduce inflammation in their lungs and open up the airways to ease symptoms such as coughing, wheezing, and shortness of breath. They must also have permanently stopped smoking several months before BLVR and participate in pulmonary rehabilitation.
Our evaluation for BLVR includes:
Computed tomography (CT) scan
Echocardiogram
Pulmonary function tests
Arterial blood gas (AGB) test
Perfusion lung scan
We also review the patient's history and go over the risks and benefits of BLVR. Not every patient with severe emphysema will be a candidate. For example, if a patient has major heart conditions, had major lung surgery, or has had a recent lung infection, we might recommend an alternate treatment.
The BLVR procedure
Our interventional pulmonologists perform BLVR with a bronchoscope. There are no surgical incisions involved.
The entire procedure is performed in our interventional pulmonology suite at William P. Clements Jr. University Hospital, and patients receive either a sedative to help them relax or general anesthesia to put them to sleep during the relatively short procedure. They also receive numbing medications in the nostril or mouth and throat to prevent irritation from the scope, which has a camera on it. The scope also has a working channel so we can suction secretions and use certain tools to place the valves in the airways and study the patient's lung ventilation.
On average, we insert two to five valves, which limit airflow into the diseased areas while still allowing trapped air and secretions to escape. With air directed to the healthier sections of the lung, patients are able to breathe easier and enjoy more normal lung function.
The entire procedure usually takes less than 30 minutes. Patients typically stay in the hospital for two to three days so we can observe them and ensure they are not experiencing any air leaks in their lungs. That is the main complication with BLVR, affecting 15% to 30% of patients, but it is usually managed and corrected while the patient is hospitalized. The complication is anticipated due to the lung volume reduction nature of this procedure.
Proud of our role
Our pulmonary care team at UT Southwestern is dedicated to helping patients manage their COPD with the most advanced treatments as soon as they're available, and we're proud to have played a role in making BLVR a reality for patients all over the world. We're also proud to be part of clinical trials dealing with other new treatment modalities for COPD.
About the Author
Muhanned Abu-Hijleh, M.D., is Director of the Interventional Pulmonology, Respiratory Therapy, and COPD Program at UT Southwestern. He is among the researchers who helped develop the one-way valves and also served as Principal Investigator of the EMPROVE trial at UTSW, a multicenter clinical trial evaluating the valve system. Dr. Abu-Hijleh is also involved in multicenter trials testing new treatment options for patients with advanced COPD. His clinical interests include pulmonary airway disease, lung cancer, and interventional pulmonology.