How to handle pumping at work: 6 tips for breastfeeding moms
May 7, 2019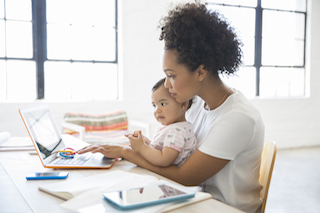 As a doctor, I felt as if I was more prepared than most to tackle the working mom lifestyle. But when I sauntered into the hospital after maternity leave, breast pump in tow, I didn't anticipate the frustration and guilt that can accompany pumping at work.
Caring for my patients during long shifts while trying to maintain my milk supply was a lot more stressful than I expected. So much so that I wrote an article about my struggles, which was published in the Journal of General Internal Medicine.
When I had to stop pumping after a good run of nine months, it felt like a personal failure. Looking back, I know it was amazing that I made it that long. I don't want other women to beat themselves up like I did, so I've put together a list of six challenges and strategies that helped me overcome them – and feel like a good mother again.
6 challenges with pumping at work
1. Getting started can be tough
Early in my career, I thought breastfeeding and pumping looked easy. I'd work with expectant mothers on latching, and I watched lactation consultants assemble and clean breast pump gear in seconds. Easy-peasy, right? Not when I became a mother! I found the learning curve to be much steeper. 
Try this: Meet with a lactation consultant as soon as you can after delivery. These breastfeeding experts can help coach and support you as you learn to use the pump. Even when I delivered over Christmas, the lactation team was there every day to help me overcome latching difficulties, breast soreness, and cleaning and assembling my pump.
Related reading: 5 things to know about buying and using breast pumps
2. Scheduling time to pump
Many working moms don't have the luxury of a flexible schedule. Breaks for doctors are irregular – and sometimes nonexistent. My lactation consultant suggested I pump three times a day, which stressed me out because I couldn't block out that much time in my schedule.
Try this: Meet with your supervisor to discuss adjusting your schedule to accommodate pumping. If that's not an option, try pumping less frequently if you have to. I decided to pump twice a day during 12-hour shifts because that felt more manageable than three times. At first I was disappointed I couldn't do more, but I had to remind myself I was not failing my baby – pumping was my goal, not hers. Making a schedule reduced my stress, which helped maintain my milk supply.
3. Feeling guilty for not 'working' at work
After I figured out my schedule, I realized work seemed to be piling up during that hour each day I was pumping, and it became overwhelming. I felt guilty for taking time away from my patients and staying later meant I'd have less time at home with my baby.
Try this: Find tasks you can do while pumping. I did paperwork and made follow-up notes while in the private lactation room. A few other colleagues and I who were pumping requested a laptop station in the room so we could maximize our time. Getting a little bit of work done eased my mind and kept me from falling behind.
4. Finding places/resources to pump
Pumping at work takes a lot more planning than I realized. Moms need a clean and private room, a refrigerator to store bottles, a sink to rinse equipment, and a safe place to lock up supplies during the day. At the hospital, some floors and zones require a badge or key code access, and I was worried I'd be stranded during certain shifts.
Try this: Connect with human resources during or before maternity leave. When I called HR, they helped me locate appropriate rooms, storage lockers, refrigerators, and cleaning areas in all the areas of the hospital in which I work. Consider visiting these areas before maternity leave to give yourself a little more peace of mind. If you encounter pushback, be pleasantly persistent. Secure, clean areas to pump are becoming more common in academic centers, for example, and are mandated by many organizations and companies. You should feel empowered to ask for what you need.
Pumping requires more daily calories than pregnancy. Even as a doctor who knew better, I found myself hungry, thirsty, tired, and dealing with leg cramps at work. I sometimes wondered if I was the only one facing these challenges.
5. Remembering your own health
When I was pregnant, I diligently carried snacks, took prenatal vitamins, and stayed hydrated. But after my baby was born, my own health became my lowest priority. That's not good – pumping requires more daily calories than pregnancy! Even as a doctor who knew better, I found myself hungry, thirsty, tired, and dealing with leg cramps at work. And it took a toll on my mental health, too. I sometimes wondered if I was the only one facing these challenges.
Try this: Pack your pumping bag with a water bottle and healthy snacks each night. I kept calcium supplements by the kitchen sink at home for a visual reminder when I unloaded my bag after work. And I found that I wasn't alone in my struggles. Chatting with colleagues and friends gave me a realistic perspective of working motherhood, which helped reduce my stress. 
6. Adjusting when life throws you curveballs 
I've known women who pump who have gotten sick or injured, or whose babies simply needed more milk than they could produce. When things happen beyond our control, it can still feel like a personal failure. In my case, I was accidentally stuck by a needle during a procedure. Because of the risk of infection, I had to stop pumping and breastfeeding when my daughter was 9 months old. Thankfully, I remained healthy, but having to stop was defeating.
Try this: Don't beat yourself up. Formula-feeding does not make you a bad person or a bad mother. And, on the bright side, formula-feeding or supplementing allows your partner or other loved ones to help more with child care, which can take a little work off your plate.
A few more tips for pumping moms
At work
Find backups for emergencies. Whether you're a doctor with a pager or you are responsible for answering client phone calls, partnering with a colleague to cover your role for 30 minutes can help ease your mind.
Be clear and firm about pumping needs. I've had male supervisors throughout my career, and when I explain that I have to pump, they're typically understanding.
Rely on other women. If your work environment is less flexible or you're worried about speaking up, find an ally among your colleagues to help you feel more comfortable.
Plan ahead for travel. If you're traveling to a conference, ask about pumping stations in advance. More conferences are starting to rent private pumping pods for attendees and speakers. And, if you plan to fly, be sure to check the latest air travel guidelines for transporting pumps and liquids.
At home
Get extra pumping supplies. Consider packing extra bottles and pump attachments in your nursing bag so you don't have to fully wash the equipment at work. Just rinse after your first session and use the clean set the second time. Then, you or a family member can wash both sets at home.
Set reasonable breastfeeding/pumping goals. Some women go to great lengths to increase their milk supply, which is fine as long as you aren't stressing about it. Don't feel obligated to try lactation supplements or other techniques out of guilt or concern for your baby's nutrition. 
If you feel overwhelmed about pumping at work, you're not alone. Remember: Whatever amount you choose to pump (or not), the ultimate goal is a healthy mother and baby. You're doing a great job, mama. And we're here to help support you.

To visit with a lactation consultant, call 214-645-8300 or request an appointment online.