Masks and Social Distancing
New Patient Appointment or 214-645-8300
Wearing a face mask helps limit the spread of COVID-19 and protects those around you. According to a review of 172 studies worldwide recently published in The Lancet, wearing masks can reduce the risk of spreading COVID-19 to about 3%. Here's what you need to know and understand about wearing a face mask when you visit UT Southwestern, as well as in your everyday life.
Wearing Masks at UT Southwestern
When entering any of our locations, all patients and visitors age 2 or older are required to wear a clean mask or a cloth face covering that meets the Centers for Disease Control and Prevention (CDC) guidelines:
Fits snugly but comfortably against the side of the face
Is secured with ties or ear loops
Includes multiple layers of fabric
Allows for breathing without restriction
Is able to be laundered and machine dried without damage or change to shape
Masks that have exhalation valves or vents do not meet CDC guidelines as they can allow virus particles to escape. In addition, face shields alone cannot be worn in place of a mask.
Employees, patients, and visitors are required to put on their masks before entering buildings to help protect themselves and others.
If a visitor doesn't have a cloth face covering or mask, we will provide one; however, given national shortages of personal protective equipment (PPE), we ask for everyone's help in preserving our supply for the protection of our workforce providing critical COVID-19 care.
Patients will be required to wear their mask throughout their visit, including in the exam room. Staff may wear face shields as an additional layer of protection for both the staff and the patient.
Across campus, masks are required in all outdoor spaces, even if it's possible to maintain social distance.
How to Wear a Mask the Right Way
Here are some tips to make sure you're wearing your mask safely and effectively:
Before you pick up your mask, wash your hands with soap and water.
Avoid touching the fabric or paper – use the ear loops or ties instead.
Make sure the mask fully covers both your nose and mouth. Ideally, it should go under your chin and across the bridge of your nose.
You may need to pull on the ear loops or ties to ensure a snug fit. There should be no gaps on the side of your face.
When you remove your mask, be careful not to touch the front of the mask or your face.
Wash your hands after taking off the mask.
If you're using a cloth mask, wash and dry it every day.
Types of Masks
Both cloth masks and surgical masks may be used by patients and visitors at UT Southwestern locations.
Cloth face coverings or masks: Cloth face coverings and cloth masks should have more than one layer of fabric but otherwise are not required to meet any existing standards for infection prevention or control. The use of cloth face coverings and masks is intended to provide a comfortable physical barrier to prevent transmission of any respiratory droplets. Cloth masks may not have an exhalation valve.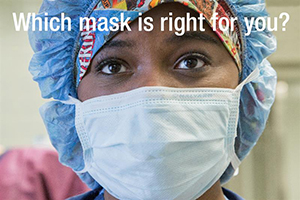 Medical masks: Also called surgical, isolation, or procedure masks, these are made out of a paper material and come with elastic ear loops. They are an ideal physical barrier for patient encounters and exams, visualizations, or dry, short procedures that do not produce fluid or spray.
N95 respirator masks: These masks protect medical workers who come into contact with high doses of the virus and should be reserved for health care workers.
Keep Your Distance
Do's and Don'ts of Social Distancing