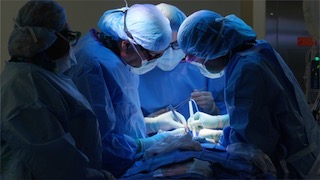 Like the apex of Dallas' Margaret McDermott Bridge, the aortic arch is key to the heart's function. If a part of the arch is weakened, the structure doesn't function properly. For a bridge, structural damage can cause a weight-bearing issue. For the aortic arch near the heart, an aneurysm, or weakening in the blood vessel wall, reduces the heart's ability to pump blood to the brain, arms, and shoulders.
If an aneurysm ruptures, it's highly likely to be fatal. Often, patients with aneurysms in their aortic arches face open-heart surgery to prevent rupturing. But patients who are very sick cannot undergo open-heart surgery. The risks involved with cutting through the breast bone to access the heart are just too great.
This was the case of our patient, James Ibson. An aortic arch aneurysm had progressively enlarged reaching a point where the risk of rupture is real. By age 77, it had become so severe that he couldn't exercise or even sleep, which was having terrible effects on his quality of life. James had undergone multiple ablation procedures for his arrhythmia, as well as an open-heart surgery in the 1990s. However, it was unlikely that he'd survive the procedure in his current state.
We had to find another way to care for him before a deadly rupture occurred. The answer? A novel procedure in which we deployed a stent graft that was custom-designed to fit James' arteries. Watch Dr. Timaran and James discuss the experience.
A new procedure with the potential to save lives
The proper name of the procedure is total endovascular repair of an aortic arch aneurysm. The device we custom made for James had three branches, which we tailored to connect to the three main blood vessels of his aortic arch. Approximately 100 procedures like this have been performed in the world with two-branch devices, but there had been just six previously performed with three-branch devices. James' procedure was the seventh. The first five three-branch procedures were done in Europe; I collaborated on the sixth procedure, done in North Carolina; and my colleagues and I performed James' surgery here at UT Southwestern.
This procedure has the potential to save lives, but it's still new. In fact, I am one of just two surgeons in the U.S. who has been granted a physician-sponsored investigational device exemption by the U.S. Food and Drug Administration (FDA). This is a special exemption granted to doctors who exhibit expertise and a clinical track record of advanced protocols that show we are capable of effectively using new devices. I collaborated on the design of the device with other surgeons and engineers, and I am a consultant for some of the manufacturers. The goal is to show that the device works and to expand its use to save more lives.
How the procedure works
For James, we used CT angiogram to construct three computing models of the arch, which we then used to design a three-vessel branch device. James' device allowed us to perform the total repair of his arch aneurysm without disrupting blood flow to his brain and without having to hook him up to cardiopulmonary support to keep blood and oxygen flowing during the procedure. This approach took a team effort, and it was ideal for James, who was too sick for open-heart surgery.
Additional benefits of this procedure over open-heart surgery include that we:
● Could make minimal incisions, which leads to quicker recovery with less pain
● Didn't have to cool James' body temperature, reducing the risk of hypothermia
● Didn't have to stop his heart for an extended period
To reach James' heart, we made small incisions in his neck and groin. From the neck, we connected two of the branches of his blood vessels. Then, through the groin, we inserted the custom-made device under ultrasound and X-ray guidance as anesthesiologists monitored him with transesophageal echocardiography. Then, we stopped his heart for a few seconds using pacing technology, connected the final branch, and restarted his heart.
After the procedure, James recovered well. He stayed just five days in the hospital, and his life expectancy is significantly improved because of this procedure. Today, James says he couldn't be happier. He spends time with his seven grandchildren and three great-grandchildren. He experienced a few days of dizziness during recovery, but other than that he recuperated well and quickly. He was shocked at how minimally invasive the surgery had been. He still has a little bit of arrhythmia that likely will never go away, but his heart is much stronger now.
UT Southwestern surgeons among world's first to repair aortic arch aneurysm with leading-edge technique
What's the future of these devices?
I think the FDA will approve these devices within the next decade. Today, UT Southwestern is a center of excellence for developing protocols and standards of care for patients such as James who have complex heart conditions. That means we have clinical expertise and research knowledge, a history of positive patient outcomes, and the advanced technology to provide specialized care. Additionally, we have the most advanced hybrid operating rooms in the world, which allow us to perform complex surgeries with cutting-edge imaging technology.
Heart and vascular conditions can be incredibly complex, and when patients can't tolerate standard treatments, it's up to clinical teams to band together and find advanced options. The UT Southwestern cardiovascular programs stay on the leading edge of heart and vascular care with a singular focus: to save the lives of more patients like James Ibson.
Read the News Release on how UT Southwestern surgeons are among the world's first to heal aortic arch aneurysm with leading-edge technique.
Stay on top of health care news. Subscribe to our blog today.
Better, safe imaging for complex aortic repairs
A novel imaging device rolled out at UT Southwestern is making complex aortic repairs safer for patients and operating room staff by dramatically reducing their exposure to radiation. UTSW is among seven centers worldwide to use the device, known as Fiber Optic RealShape (FORS).