UT Southwestern Frisco
Frisco, by the numbers: An up close and statistical look at the booming North Texas city
New Patient Appointment or 469-604-9000
Frisco has officially outgrown the "up-and-coming" moniker.
It has up-and-arrived.
At or near the top of nearly every significant "best" list in the last five years, Frisco has distinguished itself as one of the "safest," "fastest growing," "most mobile-friendly" – and, let's cut to the chase, "Best Places to Live" in the entire country.
The booming North Texas community has become a destination for corporate and tech giants, sports franchises, countless families and, very soon, an academic medical center: UT Southwestern Frisco will open a specialty clinic and 20-acre medical campus in December.
The evolution of Frisco has been fascinating to watch, but to truly appreciate its growth, let's get up close and statistical:
POPULATION
6,138: Frisco residents in 1990
33,714: Population in 2000
188,116: Population in 2019
37: people moving in per day in 2019
297,800: Estimated population by 2040
DEMOGRAPHICS
36.6: median age
44,547: School-age population
63,988: Households
$122,302: Median household income
$415,000: Median home sales price (May 2019) 
SIZE OF THE CITY
68.8: square miles
73: percent of Frisco that has been developed as of January 2019

AMENITIES
2,699: total hotel rooms
430: restaurants
40: city parks
9 million: square feet of shopping
91: acres of entertainment area at The Star, the Dallas Cowboys headquarters and practice facility
SPORTS, part I
7: Major league-affiliated sports teams and franchises
The Dallas Cowboys have their world headquarters at The Star, which includes the Ford Center, the team's practice facility that also hosts sporting events and concerts.
The Dallas Stars, the National Hockey League franchise, has its headquarters and practice facility at Comerica Center in Frisco.
FC Dallas, the Major League Soccer team, plays at Toyota Stadium
The Frisco RoughRiders, the AA-affiliate of the Texas Rangers, play at Dr Pepper Ballpark and are the attendance leaders in minor league baseball.
The Texas Legends, the developmental basketball league for the NBA's Dallas Mavericks, plat at the Comerica Center.
The Dallas Rattlers, the only major league lacrosse team in Texas, play at the Ford Center.
The PGA of America is moving its headquarters to Frisco and will open in 2022. 
SPORTS, part II
17: Soccer fields at the Toyota Stadium complex
19,350: square feet in the National Soccer Hall of Fame
12,000: seats at the Ford Center, which hosts Texas high school football games and playoffs
68,000: gallons of water in the Choctaw Lazy River at Dr Pepper Ballpark, home of the RoughRiders.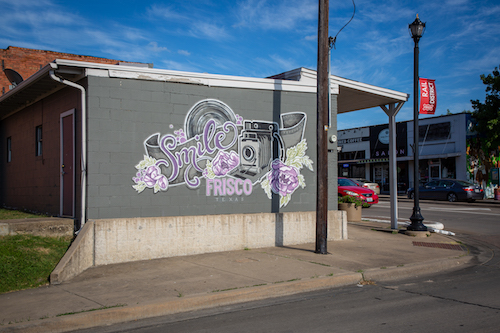 ACCOLADES
Ranked No. 1
Best Places to Live in America, Money Magazine, 2018 
Best Cities to Start a Family, lendedu.com, 2017
Best Real-Estate Markets, WalletHub.com, 2016    
Best Place to Raise an Athlete, Men's Journal, 2011
UT SOUTHWESTERN FRISCO
20: acre medical campus at Dallas North Tollway and Cobb Hill Drive
132: beds in Texas Health Frisco Hospital, UT Southwestern's partner
120,000: square feet in the new specialty clinic