New Patient Appointment or 214-645-4673
The University Hospital Simmons Cancer Center Breast Clinic provides treatment and support for patients with breast cancer.
Services We Provide for Breast Cancer Patients
We offer many diagnostic and treatment options for our patients, including:
Advanced diagnostic techniques, such as fine needle aspiration biopsy and vacuum-assisted needle biopsy
Accurate staging of breast cancer using leading imaging technologies
The latest surgical techniques, such as lumpectomy, mastectomy, sentinel lymph node biopsy, and axillary lymph node dissection
Chemotherapy, hormonal therapy, targeted therapy, immunological therapy, investigational drugs, and other medical therapy options
The most precise radiation therapy available
Innovative breast reconstruction options
Clinical trials for every stage of breast cancer
Enhanced surveillance and screening options for high-risk patients through our award-winning cancer genetics program
Complementary strategies for improving overall health and well-being
Preparing for Your Appointment
Please ask your referring physician or hospital to have all medical records sent to UT Southwestern Medical Center. We will have access to medical records for any procedures performed at UT Southwestern.
In addition to medical records, here are a few things to gather before your first appointment:
Insurance cards
Surgical reports
X-ray/scan results and/or films
Blood work results
Contact information for other doctors you have seen
Pathology reports
Specimen slides
List of current medications
List of questions for your physicians and/or the financial office
Because you'll be getting a lot of information, it's a good idea to bring a family member or friend to help you take notes and remember what your care team says.
If you need surgery, here's what you can expect during the first appointment with your surgical oncologist. You'll:
Review your medical record, including X-rays and test results.
Discuss your health history.
Discuss the potential need for a biopsy to accurately diagnose the disease and determine its stage.
Valet and self-parking are available.
The Only NCI-Designated Comprehensive Cancer Center in North Texas
Simmons Cancer Center is the first and only medical center in North Texas to earn the National Cancer Institute (NCI) Comprehensive designation.
This elite distinction, which is held by only about 50 cancer centers nationwide, recognizes innovative research and excellence in patient care. It is the gold standard for cancer programs.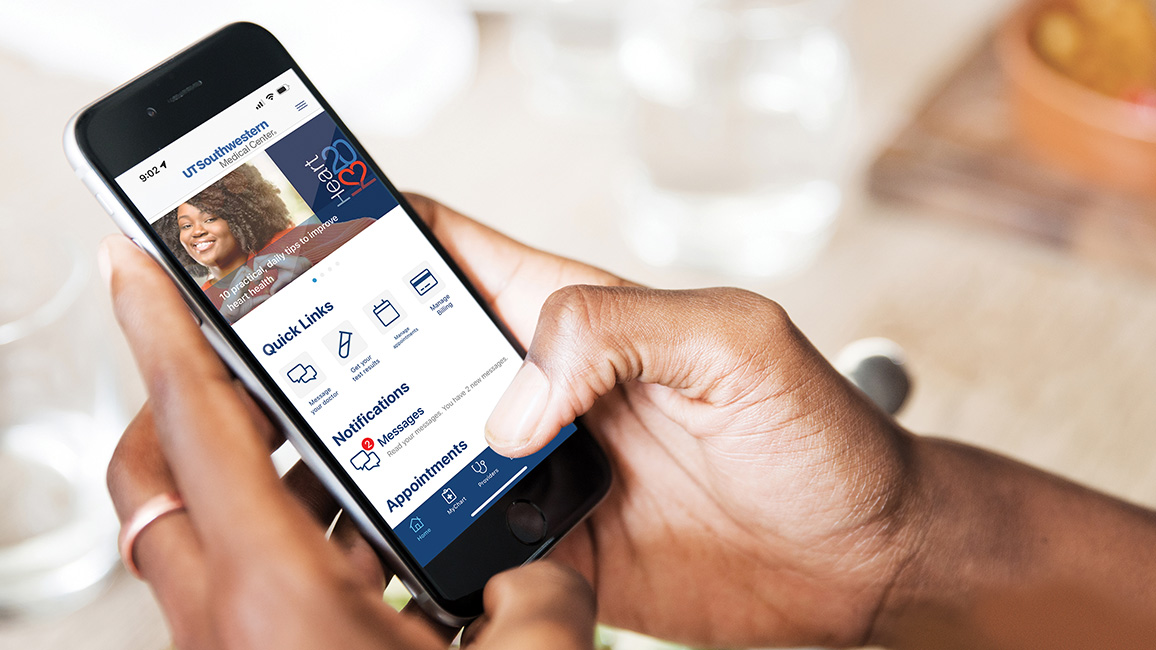 UTSWMyCare is your convenient, one-stop, accessible, connected, on-the-go health resource.
We have a wide range of clinical trials open to patients with all types and stages of cancer. Search for opportunities to participate in a cancer study.