New Patient Appointment or 214-645-8300
Our Nuclear Medicine physicians are part of a multidisciplinary team that provides a range of advanced molecular imaging and therapy services that help diagnose, treat, and evaluate the response to treatment for many health conditions. Patients are provided instructions to ensure they and their household members know how to remain safe during and after the administration of radioactive drugs.
Consultative Services
Neuroendocrine tumor treatment ( LUTATHERA® infusions)
Meet Our Nuclear Medicine Team
Our Nuclear Medicine & Molecular Imaging physicians are highly trained and experienced specialists in nuclear medicine tests and treatments.
Dr. Öz is Chief of Nuclear Medicine at UT Southwestern. He has expertise in thyroid and musculoskeletal diseases, cancer, and cancer imaging, with a particular interest in neuroendocrine tumors.
Dr. Kandathil specializes in lung cancer screening, diagnosis, and post-treatment follow-up.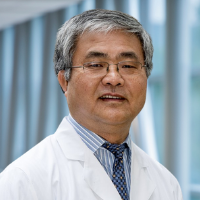 Dr. Peng has expertise in general nuclear medicine, PET imaging, and computed tomography (CT), with a particular focus in oncology and neurology.