Improving treatment for abdominal aortic aneurysm – without open surgery
January 9, 2020
When the average person thinks of an aneurysm, a sudden, often fatal vascular event in the brain comes to mind. But aneurysms, or a weakening in the wall of a blood vessel, can occur anywhere in the body and can be equally devastating.
An abdominal aortic aneurysm (AAA), is a dilation in the aorta, which is the main blood vessel in the chest and abdomen. These aneurysms can continue to enlarge and rupture, leading to hemorrhage and death. Some AAAs are more complex than others and involve the renal arteries and the arteries to the intestines. These types of aneurysms require either open repair, with an incision that extends from the chest to the abdomen, or a special, custom-designed stent-graft to save the patient's life.
UT Southwestern's Advanced Aortic Endovascular Program is the only center of excellence in the region with access to these custom-made endovascular aneurysm devices and the expertise to provide them to patients.
Ruptured AAA is the 13th leading cause of death in the U.S., taking approximately 15,000 lives a year.
UT Southwestern has long been a leader in treating abdominal aortic aneurysms, particularly using minimally invasive options. Led by Dr. Carlos Timaran, the UT Southwestern team has offered complex endovascular aortic repairs since 2010.
Whereas in most centers 20% to 30% of patients cannot be offered endovascular repair, more than 90% of aortic aneurysms can be repaired at UT Southwestern using stent-grafts. These devices are delivered through small needle access sites in the groin and a 1-inch incision in the arm. All approved and investigational devices are currently available through our Advanced Aortic Endovascular Program. 
Due to our expertise, we can offer advanced devices through physician-sponsored Investigational Device Exemption (IDE) protocols. Our patients have access to devices not available at most medical centers.
Most recently, we became one of just three medical centers in Texas that are part of national clinical studies to examine whether new devices will be effective, less-invasive options for AAA repair.
Advancements in minimally invasive AAA treatment
When an aneurysm develops in the lower part of the aorta, the main artery that carries blood from the heart to the rest of the body, it's called an abdominal aortic aneurysm (AAA). This part of the aorta houses blood vessels that pump blood to the kidneys and lower body. 
An AAA can reduce blood flow as well as kidney and leg function. If it grows too large and ruptures, the patient may hemorrhage – experience massive internal bleeding.
Historically, the only way to repair an abdominal aortic aneurysm was with open surgery. The damaged section of the aorta was removed and replaced with a synthetic tube. With this intensive surgery, recovery can take months.
The development of a minimally invasive approach known as endovascular aneurysm repair (EVAR) in the 1990s was a major breakthrough in AAA treatment. It cut the rate of procedure-related deaths nearly in half.
'At UT Southwestern, we use a custom-made stent graft that is based on a patient's CT scan and has fenestrations or branches that align with the arteries branching off the aorta to allow blood flow to these organs to continue. Our vascular surgeons are the only team in the region that can offer this level of care and expertise.'
With EVAR, a doctor makes a small incision in a patient's groin and threads a small tube known as a catheter to the site of the aneurysm. They then fasten a stent graft (a flexible device to support the weakened aortic tissue – to the end of the catheter to prevent it from rupturing.
EVAR offers a number of benefits over open surgery, including fewer complication risks and faster recovery. Patients who have this procedure often can return to normal activity in a couple days.
Unfortunately, some patients are not eligible for EVAR because of the location of their aneurysm. Often, it is because the aneurysm is too close to the arteries that branch off to the kidneys. In a traditional EVAR, the stent graft would block blood flow to these organs.
To overcome this issue, UT Southwestern offers fenestrated and branched endovascular aortic repair (F-BEVAR). This approach uses a custom-made stent graft that is based on a patient's CT scan and has openings (fenestrations) or branches that align with the arteries branching off the aorta to allow blood flow to these organs to continue. To date, we have treated more than 500 patients using F-BEVAR devices.
One downside to FEVAR is that the only fenestrated device currently approved by the U.S. Food and Drug Administration (FDA) is a custom-made stent that can take up to six weeks to manufacture. A clinical study being conducted at just 33 medical centers in the U.S., including UT Southwestern, is testing a new fenestrated device.
FDA approval of such a device has the potential to help many more patients with abdominal aortic aneurysm avoid open surgery and get back to their normal lives more quickly. Our vascular surgeons are the only team in the region that can offer this level of care and expertise.
It's important to remember, however, that some patients may still have to undergo open surgery due to the severity of their condition or the location of their aneurysm.
Symptoms, diagnosis, and treatment of AAA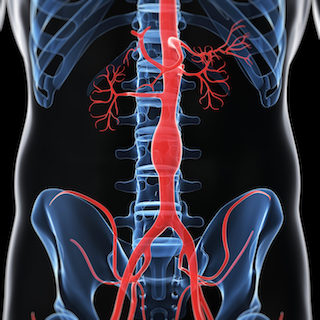 Most patients with AAAs have no symptoms until the aneurysm ruptures. If a patient does have symptoms, they might have abdominal or back pain or a pulsating sensation in the abdomen.
The majority of AAAs are found incidentally – a patient has a CT scan or X-ray for an unrelated issue, and the aneurysm is visible on the imaging. Sometimes a primary care doctor finds a mass in the lower abdomen during a regular physical exam. In either case, the patient is referred to our cardiovascular team to verify the diagnosis with an ultrasound and create a treatment plan.
Small AAAs don't pose a substantial threat. The doctor might recommend monitoring it via imaging every few months to watch for changes in size and check for new weak spots. However, a large AAA raises concerns about a rupture, and we might recommend surgery to repair it.
Along with its expertise in endovascular repair, UT Southwestern is also a center of excellence for open AAA repair. Many locations will not perform these procedures due to limited expertise, so they refer their patients to us for the best outcomes. The same is true for our expertise in treating aortic arch aneurysms, which are equally complex.
Custom-made stents help repair complex aneurysm
James Ipson was too sick to have open heart surgery for his complex aortic arch aneurysm. Under the care of Dr. Carlos Timaran, he became the second U.S. patient – and seventh in the world – to experience a minimally invasive procedure that uses balloon catheters and stent grafts to help repair the aneurysm. 
How to prevent abdominal aortic aneurysms
Quit smoking. Smoking is the No. 1 risk factor associated with abdominal aortic aneurysms. Individuals who smoke are at nearly double the risk of nonsmokers, and quitting can reduce the risk to that of a never-smoker over time.
Ready to quit? Check out our smoking cessation resources.
Men with a history of smoking can have one covered screening as part of their Medicare welcome package. Some research suggests that women who smoke have similar or increased risks compared to men who smoke, though screening women has not been deemed necessary. In 2016, the American Heart Association expressed concern about this disparity.
Manage high cholesterol. High cholesterol and atherosclerosis (hardening of the arteries) increase strain on the blood vessel walls, which increases the risk of aneurysms. Along with quitting smoking, a doctor may recommend diet and exercise changes and potentially medication to lower high cholesterol.
Control blood pressure. The same goes for high blood pressure, which wears down the strength of the blood vessels over time. Making healthy diet and exercise choices and taking blood pressure medication as prescribed can reduce the risk of aneurysms.
Less often, AAAs can develop due to aging or aortic infection, inflammation, trauma, or swelling. In these situations, there is an added layer of complexity. Particularly in these cases, the health care team must work fast to manage the effects of the AAA and the serious condition that caused it. 
If you have a complex aortic aneurysm or are at risk, we'll help you determine the best approach to prevention and long-term care.
To find out whether you or a loved one might benefit from visiting with a vascular specialist regarding aortic aneurysm risk, call 214-645-8300 or request an appointment online.