Pregnancy symptoms that might warrant a trip to the emergency department
April 18, 2023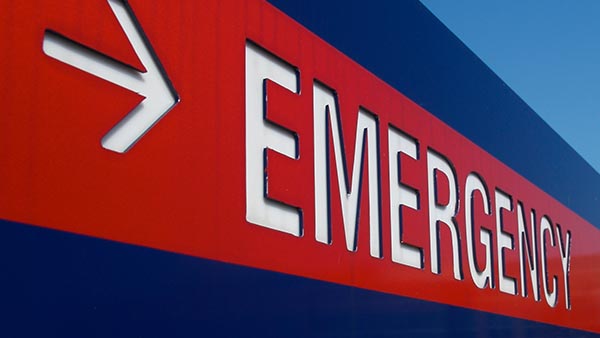 Pregnancy can be a joyful, exciting time. But it can also seem overwhelming and even frightening. Some expectant and new mothers may feel compelled to rush to the emergency department (ED) at the slightest symptom, and others hesitate, worried that they are overreacting.
Though medical emergencies are rare in pregnancy, it's best to err on the side of caution and get your symptoms checked out, either by calling your Ob/Gyn or seeking treatment.
The ED nursing team at UT Southwestern William P. Clements Jr. University Hospital works closely with our Ob/Gyns, certified nurse midwives, and emergency medicine doctors to quickly and appropriately manage pregnancy-related symptoms. We have developed emergency protocols for triaging patients based on type and severity of symptoms, the gestational age of the pregnancy, and whether a patient recently gave birth to achieve the best outcomes.
For pregnant and postpartum patients, here are some general guidelines we've prepared about when to visit the nearest emergency room, when to call your Ob/Gyn, and tips for traveling safely while pregnant.
Examples of when to go to the ED
During pregnancy, our Ob/Gyn and maternal-fetal medicine team recommends that you call 911 or go to the ED if you have sudden or severe symptoms, such as:
Chest pain
Excessive vomiting
Heavy vaginal bleeding that soaks a pad every hour for two hours
Loss of consciousness
Seizures
Severe abdominal pain or cramping
Sudden, spontaneous delivery
Sudden swelling in the arms, legs, or face
Severe headache
Sudden changes in vision
Shortness of breath
Very high blood pressure, at or above 160/110
When it might be safe to call your health care provider first
Talk with our Ob/Gyn about their preferences for letting them know if you are going to the ED. In most cases of otherwise healthy pregnancies, our Ob/Gyn team typically recommends checking with your provider first if you have symptoms that include:
A fever of 100 degrees Fahrenheit or higher, which could indicate an infection
Excessive cramping
Frequent nausea or vomiting
Light bleeding or spotting that goes away after a couple hours
Onset of irregular contractions – we may recommend waiting until contractions are coming every five minutes, then direct you to go to Labor & Delivery
Going into labor early
Pain or discharge at your cesarean incision or episiotomy site
Every patient and pregnancy is different, so keep an open line of communication with your Ob/Gyn or midwife during and after your pregnancy. No question is too trivial – we would rather hear from you than have you worry or delay care.
When you call, a provider can counsel you over the phone, help you schedule an appointment if the symptoms are not an emergency, or direct you to the closest emergency department.
Also, it's important to talk with your prenatal care provider about communication preferences. Many Ob/Gyns prefer that you call if you are traveling, had an injury, or are going to the ED. Keeping your doctor in the loop can improve and expedite your care.
Related reading: Normal pregnancy symptoms: Here's what to expect
Tips for safe travel while pregnant
As summer approaches, you may be planning a vacation or babymoon. Keep in mind a few tips to have a safe, healthy trip when you are expecting:
Tell your health care provider you are traveling. They can offer advice and help answer any questions you may have.
Avoid travel during the last trimester, especially if you have a history of preterm labor or have had complications during the pregnancy.
Identify hospitals along your route and where you are staying, just in case.
Travel with an updated copy of your medical records or download UT Southwestern's MyCare app so you can easily access MyChart on your phone or computer. ED doctors can use your records to understand how far along you are, what medications you take, and how to reach your Ob/Gyn.
The chances you'll experience an emergency during pregnancy are fairly low, but it's best to be prepared. Talk with your Ob/Gyn or midwife about symptoms to watch for and how to handle them. We'll be right here, ready to care for you and your pregnancy if an emergency arises.
To talk with an Ob/Gyn or certified nurse midwife, call 214-645-8300 or request an appointment online.
Tips from nurses about visiting the ED
By Bailey Scales, B.S.N., R.N.
If the situation is life-threatening: Take an ambulance to the closest ED as fast as possible.
If you have a ride and the situation is not life-threatening: Go to the ED at the hospital where you plan to deliver your baby. On the chance that you get admitted, it will be quicker and easier to access your medical records and reach your prenatal health care providers.
Bring your "go bag" and health information: We recommend pregnant patients in the second trimester create a "go bag" of items you want and need to bring to the hospital when you deliver. You should include:
Photo ID
Insurance card
How far along you are in your pregnancy and date of your last period
List of medications if your records aren't available online
When you recently gave birth
Any pregnancy complications you have experienced
See our complete checklist for what to put in your bag.
If you can't find these items, just go to the ED. We can locate this information after you arrive.
ED triage is based on severity. Nurses are trained to recognize emergency symptoms in patients as they arrive at the ED and route the sickest patients to the doctor first. We also understand that to you, your pregnancy, and your health are the most important thing to you.
We work as fast as we can to see every patient, and it's best to prepare to wait if your condition is not life-threatening. Bring a pillow, blanket, snacks, and entertainment to make the wait more comfortable.
Tell the nurse you are pregnant or postpartum: When you get to the ED, tell them you are pregnant, how many weeks, or whether you've had a baby in the last six weeks. Risk levels for certain conditions are different based on pregnancy status, so it helps to know that right away.
You may be treated in Labor & Delivery: At Clements University Hospital, we usually care for patients who are past 20 weeks' gestation with pregnancy-related symptoms in the Labor & Delivery area of our hospital. We can quickly assemble a team of ED and Ob/Gyn doctors there in case the baby needs to be delivered early. And if the baby is coming now, we can bring the team to the ED just as quickly.