Gastrointestinal (GI) and urological surgeries have become very advanced and precise in recent years, but some patients may still need a temporary or permanent ostomy to help their bodies remove waste – and that outcome does not mean patients cannot live full and healthy lives.
An ostomy is a surgically created opening to reroute the way you empty your bowel or bladder. This may be due to having either part or all of your colon removed or after your bladder is removed. Common causes include a serious injury, a birth defect, cancer, and inflammatory bowel diseases (IBDs), such as Crohn's disease or ulcerative colitis (UC).
With an ostomy, stool or urine exits the body through a surgical opening in the abdomen called a stoma, which then drains into an external pouch, sometimes called an ostomy bag. The pouch is worn day and night, with emptying periodically throughout the day.
Adjusting to life with an ostomy and learning how to maintain it can feel overwhelming. However, it is important to remember two key facts: ostomies save lives, and you are not alone.
Between 750,000 and 1 million people in the U.S. are "ostomates," including some celebrities and pro athletes:
Sharon Osbourne, a TV personality and the wife of rock star Ozzy Osbourne, had a temporary ileostomy after colon cancer surgery in 2002.
Bodybuilders Blake Beckford and Zoey Wright both had ileostomies for UC and continued their careers in modeling and competing.
Radio personality and runner Adele Roberts ran the 2023 London Marathon in 3:30:22 and set a Guinness World Record for the fastest marathon finish with a colostomy.
Golfer Al Geiberger continued to win tournaments on the Senior PGA Tour after having an ileostomy for IBD.
Australian surfer Brittani Nicholl had an ileostomy at age 16 and continued to surf professionally.
Former San Diego Chargers placekicker Rolf Benirschke had two ostomies due to UC and became the first pro athlete to play in the NFL with an ostomy; he played seven of his 10 seasons with a pouch.
At UT Southwestern, our wound, ostomy, and continence (WOC) nurses and certified advanced practice providers (APPs) are here for patients with temporary and permanent ostomies every step of the way. No question or concern is too trivial or silly – we've heard them all, and we'll get you the answers you need.
Ostomy basics – before and after surgery
UT Southwestern has created preoperative classes that will help you start learning about your ostomy well before surgery. Led by certified ostomy nurses, the classes will help you mentally prepare, whether you are getting a colostomy, ileostomy, or urostomy. After surgery, a certified ostomy nurse will continue teaching postoperatively and ensure that you receive all the training you need to take care of your stoma and pouch at home.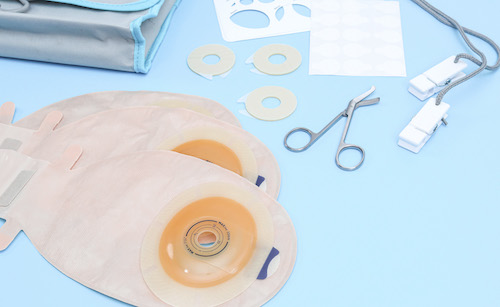 At discharge, you will be provided with at least two weeks' worth of supplies and will be assisted in establishing service with a durable medical equipment (DME) company that will ship supplies directly to your home in discreet packaging. We can also guide you to local resources and pharmacies that carry products and help you find discounts or samples through manufacturing companies.
And you won't be on your own after you leave the hospital. About 90% of our patients take part in home health nursing support for at least a few weeks after ostomy surgery. At your two-week post-op follow-up appointment, a WOC nurse and/or APP will talk with you about your comfort level in managing the stoma and pouch and will continue to show you best practices to successfully manage your ostomy going forward.
Basic supplies most ostomates need
Some or all of these items may be needed to successfully manage your ostomy:
Pouches come in one- or two-piece systems – two-piece systems include a skin barrier.
Skin barriers, or wafers, stick to your skin under the stoma to prevent leakage.
Stoma powder absorbs moisture and reduces irritation.
Barrier wipes or spray help you clean around the stoma and protect against skin irritation.
Barrier extenders are small pads that help customize the fit of your ostomy system and provide a wider adhesive border to help hold the skin barrier in place.
Measuring cards will help you choose the right-sized barrier for your stoma to prevent irritation or leakage. It resembles a wedding ring sizer, with cut-out circles in multiple sizes. When you hold the card up to your skin, the edges of the cutout should not touch or rub against the perimeter of the stoma.
Deodorizers are drops, granules, or powders that neutralize potential odors.
Paste helps fill in uneven contours to create a flat surface and effective seal.
Ostomy support belts help hold the pouch in place as it's filled. They are optional but can help you feel more comfortable – especially if you are active or have a hernia or are at risk for one.
Patients who have a colostomy may also need irrigation supplies, which help flush the colon to prevent constipation. We may also recommend irrigation for patients who have a stoma in the lower part of the colon, where stools are typically more solid.
Frequently asked questions about ostomy
Receiving an ostomy is never easy, whether it is a temporary bridge to healing or a permanent lifeline. Whatever your story is, we will be by your side every step of the way with training and guidance to help you live a full, active, and healthy life.
If you need assistance with any ostomy-related issue, please call 214-645-8300 or request an appointment online.