Specialist spotlight: Paging Dr. Ana Islam
March 10, 2019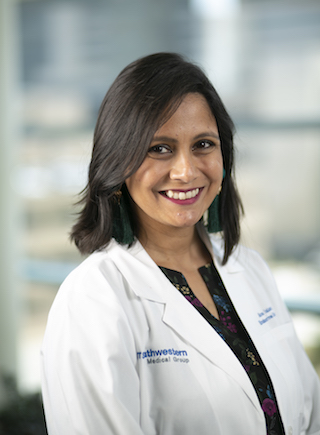 Dr. Ana Islam is clearly a Renaissance woman. She started her academic and professional life steeped in economics and high finance, thanks to a degree from Stanford and early work as a hedge fund consultant.
But, and this is the Renaissance part, only a few years into a promising financial career she decided to follow her passion and go to medical school at UT Southwestern, where she has become a surgeon, researcher, and teacher – specializing in thyroid, parathyroid, and adrenal gland disorders. In 2011, she won the prestigious Hudson-Penn Award, which recognizes a senior medical student who has demonstrated excellence in surgery.
Adding to Dr. Islam's highly varied resume is that she can speak fluent French, German, and Bengali. She's the mother of two and is an avid traveler with Morocco and other exotic ports of call stamped into her passport. 
When she's not in the operating theater, she's voraciously poring over a book or touring the latest exhibition at the nearest museum.
Dr. Islam was among the first specialists to join the new UT Southwestern Medical Center at Frisco in December 2019. Let's get to know more about her.
What brought you to UT Southwestern?
"I went to UT Southwestern Medical School and was originally inspired to pursue surgery because of my mentor,  Dr. Shelby Holt, who is currently UT Southwestern's Chief of Endocrine Surgery. I completed my general surgery residency at Houston Methodist Hospital, and then I returned to UT Southwestern for an endocrine surgery fellowship. I was their second William H. Snyder Endocrine Surgery Fellow, and after that they made me an offer to join the faculty. I have come full circle!"
What is it about surgery that appeals to you?
"I like the technical aspects of surgery, but I was also drawn to internal medicine, which demands a holistic approach to any problem. So, when I started getting involved with endocrine surgery it was a match made in heaven. It allows you to intellectually work up a patient, and then perform an operation to change his or her life for the better. And when it comes to thyroid cancer surgery, I'll see my patients for many years afterward, aligning with my desire to have a long-term relationship with the patient."
Where did you grow up?
"I was born in Bangladesh and moved to Texas with my family when I was 4 years old. I grew up and lived in Houston most of my life, making me a native Texan of sorts. I got a B.A. in economics, with a minor in German studies, from Stanford. After graduating, I worked at a hedge fund consulting firm, with the intention of pursuing a Ph.D. in economics.
Why did you change careers?
"What I realized was that I didn't want to continue helping the rich get richer, nor just write policy in an ivory tower. I wanted to interact one-on-one with people. So, I finally started taking pre-med classes in organic chemistry and discovered I just loved it. I knew without a doubt that medicine would be a great way to help people on an individual level. Medicine gives me the chance to enter someone's life and make positive change in that life."
How did your father play a role in your development as a doctor?
"While I was studying for the MCATs (Medical College Admission Test), my father was diagnosed with glioblastoma – the same type of brain tumor that afflicted Ted Kennedy and John McCain – and I ended up taking care of him. 
"He eventually passed away during my first year of medical school, but just being around him, and caring for him during this very difficult time, I gained such a vital perspective on what it means to have cancer and what it feels like to be a patient in a clinic or hospital. So many of those experiences with my Dad shaped me when it comes to my approach to patient care. 
"Knowing the family of a patient can be such a big part of a patient's overall well-being."
What drew you to surgery involving the thyroid and parathyroid glands?
"I love the operations – they demand precise, meticulous dissection because you are operating around so many vital structures in the neck. This requires complete focus, and there is a certain peace that comes with making all these fine maneuvers and realizing I might be one more maneuver away from curing the patient. What a feeling!"
Are you excited about moving to UT Southwestern Frisco?
"Yes, it's such a fast-growing community, so having that Frisco facility closer to home for a lot of patients will be a dream for those who might not have had access to it before. The endocrine surgery division, more than any other surgical division at UT Southwestern, sees patients who travel the farthest to be treated by our specialists, so being in Frisco could not have come at a better time for us."