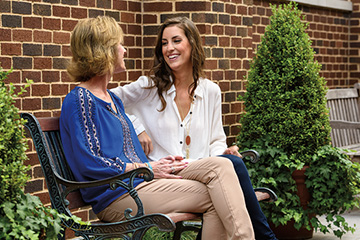 Katie Ballard was a 20-year-old journalism major when she went to the emergency room at UT Southwestern Medical Center with pain and swelling in her abdomen.
Prior to that night, Katie had noticed she was gaining weight. She was also having trouble urinating. It was only when the pain grew too uncomfortable for her to sleep that she headed to the ER.
There, an ultrasound showed a mass near her bladder.
She was hurting, but
ovarian cancer
was the furthest thing from her mind. As a surgeon who specializes in diagnosing and treating patients with
gynecologic cancers
, I was called to take on her case.
Ovarian cancer at age 20
My first priority was to remove the mass so we could determine whether it was ovarian cancer.
The surgery took four hours, and our team removed the tumor, which weighed nearly four pounds. Katie said it was so much bigger than she thought it would be, describing it as
looking like the size of a Thanksgiving turkey.
After removing the mass, we were able to confirm
ovarian cancer
. We then removed one of her ovaries and one fallopian tube, along with more than 30 lymph nodes and other biopsies, including her appendix, to see whether the cancer had spread.
Tests showed that the tumor was still stage IA — confined to one ovary — and had not spread to the lymph nodes. That meant Katie could avoid
chemotherapy
, which is needed in the majority of women with ovarian cancer. It's rare to find
epithelial ovarian cancer
in such a young patient.
More than one silver lining
Early detection allowed Katie to have fertility-sparing surgery that did not require removal of her uterus or her other ovary. She then met with
reproductive endocrinology
and
infertility specialists
at UT Southwestern to have oocyte preservation. The procedure freezes egg specimens, making them available for future use in the event of cancer recurrence or other unforeseen issues.
Katie said she never expected her life to change so dramatically in just five days.
The overall five-year survival rate for ovarian cancer is 45 percent.
But early detection at Stage 1A gives Katie a much more optimistic five-year survival rate of
94 percent
. The
American Cancer Society
estimates that 21,290 new cases of ovarian cancer are expected in the U.S. in 2015, along with an estimated 14,180 deaths.
Our oncologists recommend that women with epithelial ovarian cancer undergo
genetic testing
for familial ovarian cancer syndromes, including
BRCA1
and
BRCA2
genes that can predispose women to breast, ovarian, and possibly other types of cancer. Thankfully, Katie's genetic tests found no evidence of these genes.
Spreading awareness
Katie now uses her cancer experience as a platform to help spread ovarian cancer awareness. She said she's found that a lot of women are afraid to see a gynecologist.
That shouldn't be the case.
Ovarian cancer can be difficult to detect early because the symptoms are common and nonspecific. They can include bloating, pelvic or abdominal pain, difficulty eating or feeling full quickly, or urinary urgency or frequency. I recommend that women who experience these acute symptoms at least 12 to 15 days a month
consult with their doctor
.
Two weeks after her surgery, Katie returned to college and was able to graduate on schedule. She's now in graduate school, studying advertising at SMU.
That's what we consider a good outcome.
Katie's ovarian cancer wasn't genetic, but Denise's was. Read her story on the Cancer Answer Line blog.