Cleft lip revision, rhinoplasty can restore confidence for teens and adults
March 24, 2021
Appearance plays a key role in the development of self-esteem for children. When it comes to their faces, any perceived difference in how they look when they talk, smile, or eat can negatively impact their social interactions and psychological well-being.
Children and teens with cleft lip and palate face this potential for negativity every day. The condition is the most common facial deformity in the U.S., affecting about 1 in 1,600 babies.
Cleft lip can occur with an intact palate or in association with a cleft palate that is a visible gap in the roof of the mouth (palate). Cleft lip most commonly extends the complete height of the lip, extending into the nasal floor. These spaces occur when facial structures don't develop completely during pregnancy.
Along with social and self-esteem issues, cleft lip and palate cause breathing, eating, and speaking problems that must be corrected with surgery.
Most U.S. babies with cleft lip and palate get corrective surgery before their first birthdays. After this initial reconstruction, most patients look like any other child. But during the rapid growth of puberty, scar tissue created by the surgery – along with the original, underlying abnormalities – can cause asymmetry of the nose and mouth.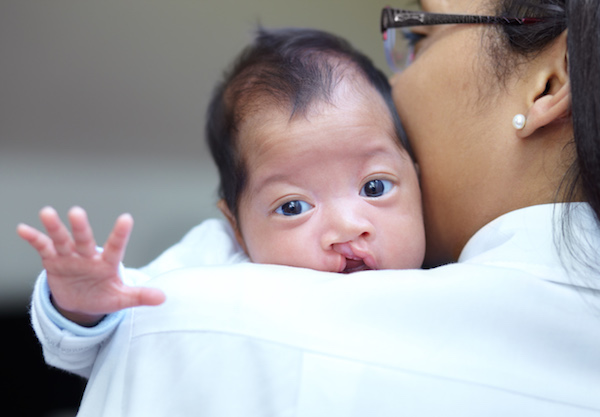 These changes can affect their emotional wellness into adolescence and adulthood. But specialized surgeries, including cleft lip revision and cleft rhinoplasty, can reshape the lip and nose to help them feel comfortable with their appearance.
Cleft repairs are considered among the most complex adult procedures to achieve consistently good results. It's more complex than a typical rhinoplasty (nose job) and requires expertise in cartilage grafting, adult plastic surgery, and the unique anatomical characteristics of cleft lip and palate, such as ample scar tissue.
The cleft team at UT Southwestern is certified by the American Cleft Palate-Craniofacial Association, a nonprofit organization that works to advance research and care for families impacted by facial abnormalities. Together with our pediatric plastic surgery colleagues, we create personalized, long-term treatment plans for hundreds of patients of all ages to achieve functional and aesthetic results.
Whether you want to "touch up" areas that have changed with age or correct suboptimal results from previous surgeries, we'll help determine the best procedure for you.
Read more: What parents need to know about cleft lip and palate
What to expect from cleft revision surgery
Most patients should wait until they are 15 or older to have cleft lip revision or rhinoplasty. The goal is to wait until they're done growing and to limit their total number of surgeries.
Individuals with a history of cleft lip and palate often need advancement of the upper jaw to correct their bite. For girls, this is done around age 16, and for boys between age 16 and18. This surgery should be performed before revision of the lip and nose because the upper jaw is the foundation of the nose. Moving the upper jaw forward changes the appearance of the nose.
Cleft lip revision can provide a softer, more natural lip appearance by lengthening the upper lip, which may be pulled up toward the nose due to scar tissue. The procedure can also improve:
Lip symmetry and fullness
Quality and visibility of scarring
Whistle deformity, a notch in the middle of the upper lip due to inadequate vermilion bulk
Thin appearance of the upper lip
How we approach the procedure depends on the extent of the patient's concerns. Patients can expect swelling for seven to 10 days after surgery. Most people feel comfortable returning to school or work after 10 to 14 days and normal eating and activities after two to three weeks.
Cleft rhinoplasty reshapes the nose in patients with an uneven nasal appearance due to cleft lip and palate. Some common reasons people want a cleft rhinoplasty:
Improve an uneven appearance of the nostrils
Relieve nasal airway obstruction
Straighten, lengthen, and improve symmetry of the nose
Remove bumps or dips in the nasal bridge
Reshape the tip of the nose
Cleft rhinoplasty usually takes four to five hours and requires a small incision in the skin between the nostrils. We commonly use cartilage from the patient's nasal septum as well as donor homologous rib cartilage (off the shelf). Most patients will need to take a week off of school or work to recover and avoid vigorous activity for three weeks.
The improved appearance of the nose is appreciable when splints and sutures are removed one week after the procedure. By six weeks after surgery 90 percent of the swelling is resolved and breathing should be improved compared to before surgery. It takes approximately one year for the nose to heal completely.
More adults seeking cleft revisions
Adults who were born with cleft lip and palate may have been told they were done with treatment as children. However, they may have spent years feeling uncomfortable with their appearance.
This doesn't mean you didn't get good care as a child. Cleft lip and palate treatment has changed dramatically over the years. And even if a person's original procedure was perfect, normal growth can change the results over time. But we now have procedures to address that.
Each year, I care for hundreds of patients with cleft lip and palate, from infants to adults. We customize our approach based on each person's anatomy and their goals for achieving a natural, satisfying appearance.
To visit with a cleft lip revision or cleft rhinoplasty expert, call 214-645-2353 or request an appointment online.