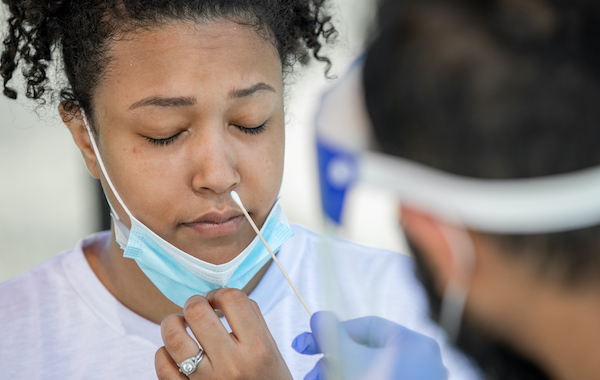 As kids go back to school, fall sports resume, and the COVID-19 pandemic stretches into September, more Americans are considering the prospect that they will be tested for the novel coronavirus.
More than 100 manufacturers have been authorized by the FDA to create COVID-19 tests, but not all COVID tests are created equally – or serve the same purpose. They vary in accuracy levels, testing methods, and the time it takes to get results.
COVID-19 tests are available at:
Hospitals
Drive-up facilities, such as UT Southwestern
Doctors' offices
Commercial labs
Community testing sites
Pharmacies, such as Walgreen's and CVS
Home testing kits
All these options can lead to confusion if you or a family member needs to get tested. So, let's review the different types of tests, their pros and cons, and how each can help you reduce community spread.
COVID-19 testing snapshot
There are three main types of tests for COVID-19 – two are diagnostic (PCR and antigen tests), and one looks for protective antibodies from a previous infection (antibody or serologic tests).
| Type of test | Pros | Cons |
| --- | --- | --- |
| PCR (24- to 48-hour results) | Most specific, most sensitive | Can take a while to get results |
| Antigen (15-minute results) | Fast results, highly specific, highly sensitive for positive results | Less reliable for negative tests than PCR; less effective later in disease |
| Antibody (results may be available within 24 hours) | Simple blood test; can show whether you've had COVID-19 | Not all people will have antibodies if infection was mild |
| Testing method | Pros | Cons |
| --- | --- | --- |
| Nasal pharyngeal swab | Most sensitive and accurate; higher concentration of virus in this area | Uncomfortable; results take longer |
| Nasal swab | Less invasive; may encourage more people to get tested | Not as accurate as PCR |
| Saliva | Less invasive; option for people with pharyngeal conditions, such as throat cancer | Takes a lot of saliva; potentially less sensitive |
PCR testing: The gold standard
What the test measures: Polymerous chain reaction, or PCR, is a molecular technology that amplifies COVID-19's ribonucleic acid (RNA) – the genetic essence of the virus.
How it's done: While PCR can be done on any bodily fluid, we typically test the fluids in the nasal pharyngeal area, where the sinuses meet your throat. That's where the highest volume of the virus usually resides. A provider slides a long cotton swab into your nostril, stopping at the nasal pharyngeal area. They will swirl the swab for about 10 seconds, which is not painful but is uncomfortable.
PCR can also be done on a swab just inside the nose and from saliva samples. However, the last two routes are less sensitive for finding the virus. Therefore, the nasopharyngeal swab is considered the gold standard.
How long it takes to get results: The viral replication process takes time because samples must be sent to a special lab. Results are usually available in 24-48 hours at UT Southwestern. Getting results may take longer at other sites, depending on how far the lab is from the testing site.
Pros: Considered the gold standard for COVID-19, PCR tests are the most accurate form available today. We use PCR tests at nearly all UT Southwestern facilities and to verify whether patients are COVID-free prior to surgery.
Cons: The test can be uncomfortable and takes longer to return results.
The Making of a COVID-19 Vaccine
See how the complex process works and how it was accelerated to combat the pandemic. (Published in Sept. 2020)
Antigen testing: Rapid testing
What the test measures: Antigen tests, the fastest form of COVID-19 tests, look for fragments of the virus without amplifying or replicating it in the lab.
How it's done: The antigen test can be done on a nasopharyngeal swab just like the PCR, but it is more commonly done in a nasal swab. The nasal swab for an antigen test typically stops in the nostril, not the throat. It may feel less invasive but there likely is less virus to be found in that area. Antigen tests are most effective early in the disease when the patient has more of the virus in their body.
How long it takes to get results: Usually available in 15 minutes, antigen tests are commonly referred to as rapid tests. Similar to a pregnancy test, one line on the test card means negative and two lines means positive.
Pros: The results are lightning fast and the tests are less expensive to create, which makes them suitable for home tests and large group testing. Antigen tests are highly specific for positive results – if you test positive, you have the virus.
Cons: The results are less sensitive for COVID-19 and therefore have a higher false negative rate (you may test negative but actually have the virus). The test is very specific, so if it is positive, you have COVID-19. Because of this, antigen testing can be used for rapid screening and can be confirmed by a PCR test if necessary.
Antibody testing: After illness
What the test measures: Antibody or serologic tests determine whether a patient's immune system has produced antibodies to protect against the virus.
How it's done: We test a sample of your blood, usually gathered via finger prick or blood draw, to detect the presence of antibodies.
How long it takes to get results: Serological test results are delivered quickly, possibly even the same day, because these tests don't require special equipment.
Pros: Antibody tests can indicate whether you have been infected with COVID-19. It can also help diagnose post-infection complications, such as multisystem inflammatory syndrome in children.
Cons: Mild cases of COVID-19 might not trigger the development of detectable antibodies. So, a negative antibody test doesn't necessarily rule out previous infection. Research is still developing on these tests, and we still don't know how long COVID-19 antibodies last.
When to get tested and why
Like many aspects of the COVID-19 pandemic, testing has been controversial at times. Debates have raged about how many people should be tested, who should get tested, and why it sometimes takes so long to get results.
UT Southwestern continues to offer testing to people who may be asymptomatic but have confirmed exposure to someone with the virus.
In many ways, COVID-19 testing is entering a new phase of accessibility. More people can get tested and, if infected, help contain the spread of the virus by self-quarantining. Testing can also assist in contact tracing – determining who might have caught the virus from you before you knew you were ill. This will be particularly important as colleges and schools reopen for in-person learning.
Getting tested is a personal choice, but it also affects the people you may encounter daily. Get tested if you are symptomatic and must go out in public – to the grocery store, work, school, or to care for children or older adults.
If you get a PCR test and your results are negative for COVID-19, you did not have the virus at the time of testing. Your doctor may recommend testing for other health conditions if you have respiratory symptoms.
If you get an antigen test and your results are negative, you still may have the virus. If your antigen test results are positive, you definitely have a COVID-19 infection.
If you test negative but start to feel ill later, you may need to be tested again.
Testing is more optional if you are willing to quarantine after symptom onset. The CDC offers a coronavirus self-checker to help you decide whether to get tested.
Testing, in all its forms and methods, is going to be a mainstay for the foreseeable future. Researchers and pharmaceutical companies are working to develop easier, less expensive, and more accurate tests, as well as an effective vaccine. For example, rapid tests, though less sensitive, are evolving and may one day help predict whether a person is contagious, in contrast to the current PCR testing which may remain positive for weeks even after recovery from COVID-19.
Whether you choose testing or self-quarantine, you'll need to monitor your symptom progression. If you start feeling worse after a few days, call the doctor. Early monitoring and medical care may help detect and treat severe complications, such as a cytokine storm (an intense immune reaction).
To get tested for COVID-19, visit our Dallas or Fort Worth testing sites or find a testing site in your community.
To request an appointment with a UT Southwestern provider, call 214-645-8300 or request an appointment online.