The Omicron variant of COVID-19 has spread across the world with lightning speed, becoming the dominant strain of SARS-CoV-2 in the U.S. and shattering records for daily case counts and hospitalizations. Omicron has also managed to evade some of the antibody protections created by vaccines and prior COVID-19 infections, causing a surge in breakthrough infections.
Yet this highly contagious variant tends to cause milder illness and fewer deaths, particularly among the vaccinated and boosted population. Its trajectory also appears to be steep in both directions, with cases rising and falling sharply in about two months in South Africa, where it was first identified.
Nearly two years into the pandemic, Omicron created a whipsaw effect: Just as it seemed the Delta variant was dissipating and life might return to normal, along came a more contagious form of the virus that continues to test our nerves and the nation's health and school systems all over again. Navigating the Omicron wave is challenging for many reasons but mostly because it's moving so fast. We hope the following answers to commonly asked questions about Omicron will help keep you up to speed and well-informed.
If Omicron is typically milder than Delta, why did hospitalizations surge?
Although symptoms may be milder for some people, Omicron is much more infectious than Delta. Therefore, the exponential increase in cases – the U.S. set a record on Jan. 15, with a seven-day average of more than 800,000 daily cases – has caused hospitalizations to increase, even though a smaller percentage of infected people are requiring hospital care with Omicron.
Two recent studies from the U.K. found that the risk of hospitalization with Omicron is about one-third of what it was for Delta. And so far, deaths have remained well below their peak in January 2021. However, hospitalization and death rates will vary in different geographic regions based on the age, medical conditions, and vaccination status of that particular population.
Are hospitalized patients experiencing different symptoms with Omicron?
The complete list of symptoms is similar, but early data indicate the most severe complication of Adult Respiratory Distress Syndrome (ARDS) is less common with Omicron, especially for vaccinated patients with breakthrough infections.
Many hospitalized patients are coming in with exacerbation of their underlying conditions or dehydration caused by their COVID-19 infection, in addition to typical viral symptoms (fever, chills, sore throat, body aches, fatigue, nasal congestion, and cough). Loss of taste and smell, which was a prominent symptom with the Alpha and Delta variants, does not seem to be as common with the Omicron variant.
Do I really need to get tested if I have mild symptoms?
Getting tested will let you know if you need to stay isolated to avoid spreading the disease to others. Also, if your symptoms progress, it is valuable to know whether you have COVID-19 so you can take advantage of specific treatments.
If I was exposed to someone with COVID-19 but I'm vaccinated and boosted, should I still get tested?
Given that Omicron is more likely to cause a breakthrough infection in those who are vaccinated and boosted, it is recommended you consider a test at least five days after the exposure even if you're asymptomatic. This will help you determine if you have an asymptomatic infection, which means you could still spread the virus to your family, friends, co-workers, and others.
When should I get a rapid test, and when should I get a PCR test?
A rapid antigen test done at home, at a pharmacy, or in a health care setting can provide a quick answer if someone has COVID-19, particularly if that person is within the first five days of symptoms. A positive test strongly suggests you have COVID-19 and should self-isolate for the recommended duration of time. (On Jan. 17, 2022, the federal government made four free antigen tests available to every household in the U.S. Order them at COVIDtests.gov.)
A negative rapid test in someone with symptoms does not 100% rule out infection, so it is recommended you confirm the negative result with a PCR test before leaving isolation.
A rapid antigen test may also be used for people who are asymptomatic, either for screening purposes or after an exposure. A negative rapid test suggests you're not infectious at that time, but it cannot rule out that an individual might be incubating an early infection if they had a recent exposure or that could develop infection in a few days. For that reason, repeating a rapid test 24 to 36 hours later or getting a PCR test to confirm the negative result can be considered in those who had a recent exposure.
Related reading: Which COVID test is best? Pros and cons of coronavirus detection methods
How long do I need to isolate after testing positive?
Current CDC guidelines recommend you stay home and self-isolate for at least five days and wear a mask if you need to be around others in your home. Day 1 of isolation should be the first full day after symptoms developed or after your positive test was collected – whichever came first. After Day 5, if you are asymptomatic or your symptoms have improved (including being fever-free for 24 hours without the use of fever-reducing medication), you can leave isolation but should continue to wear a mask and observe precautions when around other people for the next five days. If available, it is recommended that you take a rapid antigen test to see whether you might still be infectious and need to extend your isolation for the full 10 days.
If you have more severe COVID-19 or are immunocompromised, remain in self-isolation for at least 10 days and consult with your doctor about when it's safe to end isolation.
Can I get reinfected after having COVID-19 from the Omicron variant?
If you have had prior infections with other variants such as Delta, it remains possible to be infected with Omicron. After infection with Omicron, however, it does appear that some individuals will have a boost in their immune protection against reinfection with Omicron or other variants. It remains to be seen how long that immune protection will last.
Do I still need to wear a mask?
Masking indoors in public spaces is still an important part of our preventive measures against the virus – even for those who are fully vaccinated. Masking on the community level is part of a multi-intervention public health strategy that helps slow down the spread of the virus.
Is a cloth mask still OK or do I need an N95?
Given the increased contagiousness of the Omicron variant, wearing a high-quality, well-fitting mask is more critical than ever. A cloth mask alone is not as effective at preventing infection. Current recommendations are to use masks that have higher filtration capacity and fit well over the nose and mouth without significant air leakage.
Higher-quality options include N95 masks, but these may be more difficult to wear for longer periods of time and ideally require fit testing. Other higher-quality masks that are also widely available include KF94 and certain brands of KN95 masks. You can also use a tightly fitting medical-grade surgical mask, which provides better filtration than a cloth mask. Adding a cloth mask on top of a surgical mask, or so-called "double masking," can help ensure the fit is snug.
The federal government announced it will give out 400 million N95 masks free beginning in late January or early February through retail pharmacies and community health centers.
Is it possible to get the flu and COVID-19, or flurona?
It is possible to have both viruses. Being sick with anything can make you more susceptible to other infections, which is likely why we are seeing this pattern. In fact, we often see patients with more than one viral infection when in season. Flu and SARS-CoV2 are spread the same way, through the respiratory tract. Therefore, their respective vaccinations and masking up are the best ways to prevent both infections.
Have Delta and Omicron merged to create a Deltacron variant?
No. A variant is a version of the same virus with slightly different genetics and characteristics. So, the Delta and the Omicron variants are related, but they are not "merged."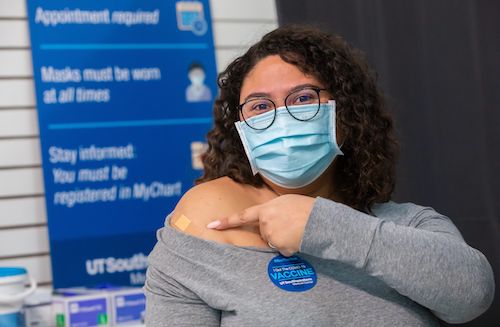 Vaccines and boosters
For more information about COVID-19 and to register for vaccines and booster shots, please visit our COVID-19 vaccination website.