Welcoming (someone else's) baby: A surrogate's delivery story
September 22, 2020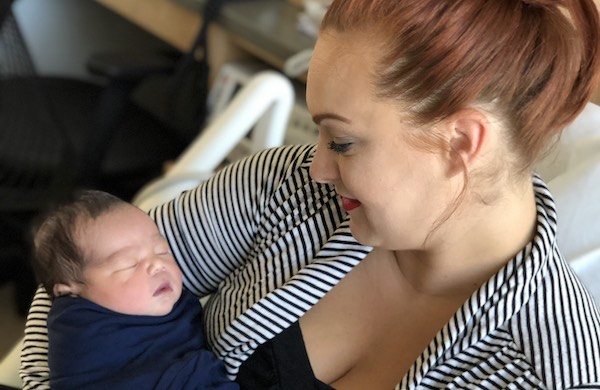 Labor and delivery are hard work, with the biggest reward coming at the moment you welcome your baby into the world. But when the patient is a gestational carrier, or surrogate, and she's helping another family fulfill their parenting dreams, the situation can feel quite different.
Surrogacy is growing rapidly in the U.S. as a proven, if sometimes complex, method of assisted reproduction. The process involves the intended parents working with a fertility specialist to achieve parenthood through a gestational carrier (GC) – a woman who will carry their baby for them.
The intended parents combine their own or donated eggs and sperm to create an embryo, which is then carried by the GC until birth. Texas laws do not permit intended parents to use their GC's eggs to create the embryo.
GC pregnancy and birth experiences are unconventional but can be just as joyous!
Just ask Nicky Haynes. In July, Nicky gave birth to the son of Jessie and Martin Hechanova, M.D., my colleague here at UT Southwestern.
Nicky was kind enough earlier this summer to discuss her pregnancy journey up to that point and offer tips for people considering working with a GC. Now she's back to talk about the joy of introducing new parents to their baby – and why she can't wait to go through the process again.
A different kind of labor and delivery
By Nicky Haynes
After giving birth to two beautiful daughters, you'd think I'd know exactly what I was doing heading into this labor and delivery. But as they say, no two births are the same!
With my first baby, my water broke at 36 weeks, and I was induced for my second.
This time, when my contractions started two days before I was scheduled to be induced, I wasn't even sure I was timing them properly!
Thankfully, one of the intended fathers was an OB/Gyn. I texted him my contractions were four to six minutes apart for an hour and he replied, "Here we go!"
Related reading: What to expect when you're expecting – via gestational surrogacy
I checked in to the hospital at 4:30 p.m. and gave birth at 8:50 that night. While this childbirth was harder than my last two – I had to push longer – it was still an amazing experience. We were fortunate both parents and my husband (as my support person), were allowed to be in the room for delivery.
Because of COVID-19, we weren't sure that would be the case.
And of course, there were certain labor and delivery protocols, such as masking, extra handwashing, and no extra visitors to meet the new baby.
My husband was amazing, even though I wasn't delivering our child. He was my most vocal cheerleader – the baby's parents were supportive, of course, but my husband's voice rang the loudest.
Watching the new parents bond with their baby
Martin held the baby first, while Jessie cut the cord. Martin does this every day for a living, but this was the first time the baby being born was his. He was so excited and proud he held the baby up like Simba in "The Lion King" for everyone to see!
While the parents had their own room next door, they stayed in my room for a few hours while the baby was examined and they held him skin-to-skin.
I don't have words to express how I felt watching them swoon over their new baby. I remember being in their shoes, watching my girls' firsts: being weighed and measured, feeding them, and changing their diapers. It was truly amazing to help Martin and Jessie experience their own precious moments.
Related reading: Preston's dads share 6 tips for parents who choose gestational surrogacy
Going home, recovery, and breastfeeding
Going home with a newborn can be stressful and exhausting. But going home to big kids that can entertain themselves is exactly the opposite when it comes to recovering from childbirth – so much easier!
There were no "mommy jitters," no waking up in a panic to check on them. I do wake up to pump breastmilk­ – which I have said I'd do for up to a year­ – but then I just go right back to sleep.
Honestly, I started to get bored during my recovery. I called my Ob/Gyn five or six days after giving birth to ask if I could go back to work. We compromised and I went back at 10 days.
We have been very open and honest with our daughters throughout this process, and they continued to roll with it after delivery. The last few weeks of being pregnant in the Texas heat were difficult, but now I can fully participate in my children's activities again. This experience has made me cherish my time with them even more.
Preparing for my next GC journey
I hope to do this as many times as possible, and I'm fortunate to have a husband who fully supports that decision. I've got a little time until the next one – most Ob/Gyns won't clear a patient to become a GC until at least a year after delivering.
I've learned a lot throughout this incredible journey. I often found myself worrying about whether I was keeping the parents informed enough – or too much – about the little things that happen over the course of a pregnancy. I feel like I'll be more relaxed next time, now that I know what to expect.
People often ask how I can carry a pregnancy and not form an attachment. I tell them that I went into the process knowing the baby wasn't mine. My job is not to get attached or bring a baby home. My role is to help others experience the joy of becoming parents.
Being a gestational carrier has given my husband and me more reasons to be thankful for our little family. We feel blessed to help give that same joy to intended parents.
A few closing thoughts
Bringing a new baby into the world, whether through a traditional pregnancy or gestational surrogacy, takes a team approach. Our Ob/Gyns and nurses work closely with gestational carriers and intended parents to provide the safest, most inclusive experience possible.
If you're thinking about gestational surrogacy to become a parent, visit with an Ob/Gyn to discuss your conception and care options. Call 682-503-1083 or request an appointment online.