Nutrition
5 signs you've chosen the right multivitamin
July 27, 2015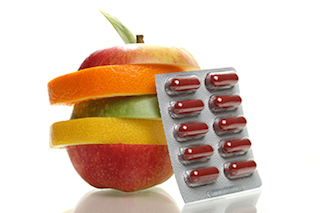 As kids, many of us took daily chewable multivitamins, and for a lot of us, that habit has continued into adulthood – about half of American adults take multivitamins.
Some people take multivitamins for the comfort of knowing they're filling potential nutrient gaps. Others take them with the belief that they're boosting their immune system or improving their brain function or skin tone or hair health or health in general.
People who benefit from taking an appropriate multivitamin include:
Those who are eating or absorbing fewer calories (dieters, for example)
Some older individuals
People who have undergone bariatric surgery
Some multivitamins claim to support heart health, but results from the recent Physicians' Health Study II and Women's Health Study suggest that long-term use of multivitamins does not reduce risk of stroke, heart attack, or cardiovascular mortality.
Choosing a multivitamin
It's ultimately up to you to determine if taking a multivitamin is right for you. There are many options out there – a trip down the vitamin aisle at your local store might well make you think of standing before some kind of crazy, 3D periodic table – so I offer the following guidelines to help you navigate the multivitamin maze. Look for:  
1. USP verification: The S. Pharmacopeial Convention – an independent, nonprofit organization – determines whether dietary supplements are pure and contain the ingredients they list on their labels. The organization uses a particular seal, which is pictured at the top of this page. Don't be fooled by labels that simply use the letters "USP." Check your multivitamin online to ensure it is USP verified.
2. Appropriate daily values of ingredients: Choose a multivitamin with 100 percent of the daily value of most of its ingredients. Some nutrients, such as calcium, can't be included in a multivitamin at 100 percent – if it was, the multivitamin would be too large to swallow. Keep in mind, too, that exceeding 100 percent of the daily value of certain nutrients is not helpful. Some nutrients – like vitamins A, D, E, and K – can build up in the body and become toxic.
3. The right balance for your age and sex: Nutrient needs vary depending on gender and age. For example, premenopausal women need more iron, while older adults need more calcium, vitamin D, and B6. A dietitian or your family doctor can help you determine how much of specific nutrients you need for your age and gender.

4. Essential micronutrients: Your body needs micronutrients to keep your systems humming. Besides well-known nutrients like vitamin C, calcium, iron, magnesium, and potassium, a good multivitamin will include:

Thiamin, riboflavin, and niacin
B6 and B12
Folic acid, pantothenic acid, and biotin
Calcium, magnesium, selenium, and zinc
Iodine, borate, and molybdenum
Vitamins A (including beta carotene), E, and K
Vitamin D2 or D3
You can skip multivitamins that are made with additional micronutrients for which there are no recommended daily values.
5. The nutrients you need: According to the Dietary Guidelines for Americans 2015, American diets often lack calcium, fiber, and potassium. Most multivitamins contain limited amounts of these nutrients. Even if you take a multivitamin, it's important to consume foods rich in these nutrients:
Calcium: Low-fat milk, cheese, and yogurt; calcium-fortified, plant-based milks; orange juice; cereals; tofu (prepared with calcium citrate); and almonds
Fiber: Beans and legumes; nuts and seeds; oats and whole grains; and fruits and vegetables
Potassium: Beans and legumes; potatoes; low-fat milk and yogurt; lower-sodium canned tomato products; fruits; and lamb, pork, and fish.
When to take your multivitamin
Generally, the time of day you take your multivitamin is not important. However, taking it with food may minimize stomach discomfort. In addition, supplemental calcium and iron bind together in the gastrointestinal track. For optimal absorption of a calcium supplement, avoid taking it with your multivitamin.
For more information about multivitamins and healthy nutrition, reach out to our clinical nutritionists. You can request an appointment online or call us at 214-645-8300.