Wanda and Liz couldn't have come to see us at a better time! Both had tried therapies in the past that simply weren't effective. Wanda was particularly at risk. She'd been told repeatedly that she was too young to worry about coronary artery disease, which, frankly, wasn't correct.
Thankfully, neither had suffered a heart attack, though both had evidence of plaque buildup in their heart arteries and were at very high risk. Wanda had tried multiple statins but was among the fewer than 10 percent of patients who experience side effects from these lifesaving drugs. While side effects usually clear up with dosage adjustments in most patients, Wanda's didn't. She still needed help – fast.
Advanced treatment with a twist
Based on the sisters' family history of premature heart disease and high cholesterol, we prescribed Repatha. The drug is a PCSK9 inhibitor designed for patients like Wanda who can't tolerate statins but are high risk, such as individuals with a genetic predisposition to high cholesterol and heart disease. PCSK9 inhibitors increase the proteins (trash cans) on the liver that remove cholesterol from the blood stream. The drug was highly effective, but it wasn't quite enough on its own to make us comfortable with Wanda's cholesterol numbers, so we enhanced the effect of the Repatha with a very low dose of statin just twice a week – the typical dose is a daily pill, which Wanda could not tolerate. 
The combined therapy did the trick! By adding a tailored statin dosage to the Repatha, we decreased Wanda's cholesterol levels to a safe range that should protect her from developing heart attacks. Wanda is tolerating the therapy well, and we watch her closely for changes in her numbers.
My colleagues and I stay up to date on the latest research on coronary artery disease prevention and treatment as part of our daily work at UT Southwestern. The first PCSK9 research was conducted here by Dr. Helen Hobbs and Dr. Jonathan Cohen, who head the Hobbs-Cohen Lab and who won the 2016 Passano Award for their research that led to the development of PCSK9 inhibitors. This is one of many breakthroughs that have come from the discovery of the low-density lipoprotein (LDL) receptor by Dr. Michael Brown and Dr. Joseph Goldstein, for which they won the Nobel Prize in Physiology or Medicine in 1985. We've built upon those findings for many years to provide advanced coronary artery disease care to patients like Wanda.
The key to helping Liz and Wanda was to listen to their story and not just attack their cholesterol numbers in isolation.
How the sisters can stay healthy long-term
Too often, patients have a misconception that once they get heart stents or a bypass surgery, that's it, and they're cured. But the biological and genetic processes that lead to heart disease continue, and cholesterol is a big part of that for many patients. 
Going forward, Wanda and Liz need to pay close attention to their cholesterol levels, diets, and exercise habits. They also must closely watch for other heart disease risk factors, such as diabetes and hypertension, which add fuel to the fire. 

The key to helping Liz and Wanda was to listen to their story and not just attack their cholesterol numbers in isolation. Clearly there was a family history and a problem with cholesterol, suggesting a genetic condition. In addition to tailoring therapies that actually worked, the implications to their entire family needed to be discussed and managed long-term. This was all the more important given that both Wanda and Liz have their own families. We must carefully listen to our patients and develop management plans that are both understandable and acceptable to them. In doing so, we can potentially help to prevent devastating heart disease in future generations of families for years to come. 
Are you at risk for coronary artery disease? Learn about our Coronary Artery Disease program today.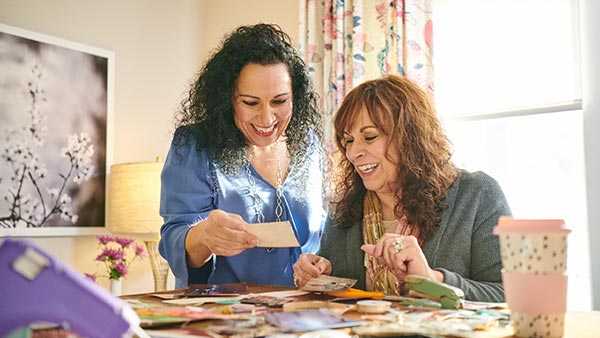 Wanda's story: A heart at high risk
Read how Wanda's therapy lets her enjoy more time with family.
Clinical Heart and Vascular Center
Leaders in Heart and Vascular Care
Combining attentive, compassionate care with our extensive clinical and research resources, UT Southwestern's cardiology experts and vascular specialists deliver individualized care within pre-eminent health care facilities.
By supporting UT Southwestern Medical Center with a gift of any size, you can advance health care discovery, healing, and education. Generous donors like you make the future of medicine possible!
We're one of the world's top academic medical centers, with a unique legacy of innovation in patient care and scientific discovery.