Advanced vNOTES procedure gives more patients a chance for scarless hysterectomy
December 8, 2022
Nearly 600,000 women each year in the U.S. have a hysterectomy to remove their uterus. The American College of Obstetrics and Gynecologists (ACOG) recommends vaginal hysterectomy – as opposed to laparoscopic, robotic, or open surgical approaches – whenever possible because it doesn't create any external scars and provides a shorter hospital stay and faster recovery.
Unfortunately, less than a fourth of all hysterectomies are performed vaginally, and that number has steadily declined.
Traditional vaginal hysterectomies lack some of the visibility and mobility to reach the fallopian tubes and ovaries, which often must also be removed due to cysts or rupture. Not all gynecologists have enough experience with vaginal hysterectomies to feel comfortable recommending them.
But an advanced gynecological surgery option – vaginal natural orifice transluminal endoscopic surgery (vNOTES) – could be the key to overcoming both concerns.
Using a specialized transvaginal access device, vNOTES provides better surgical visibility and increased access to remove the uterus, fallopian tubes, and ovaries. The result is a streamlined procedure with a shorter hospital stay (often less than 24 hours), less pain, no external incisions, and no visible scarring.
And training is ramping up across the U.S., including at UT Southwestern. I was among the early implementers of vNOTES, taking part in the first U.S. training session in 2020, which was the second session led by the creator of vNOTES, Jan Baekelandt, M.D., of Belgium. Since then, I have trained at least 50 surgeons, including several colleagues in our Department of Obstetrics and Gynecology.
Though vNOTES may not be the best approach for every patient, it is a versatile option that supports our ongoing effort to make gynecological surgeries less invasive.
How vNOTES is performed
VNOTES uses a device called the GelPoint V-Path to give surgeons a level of visibility and reach similar to traditional open surgery and laparoscopic or robotic hysterectomy, which use keyhole incisions to access the uterus through the abdomen.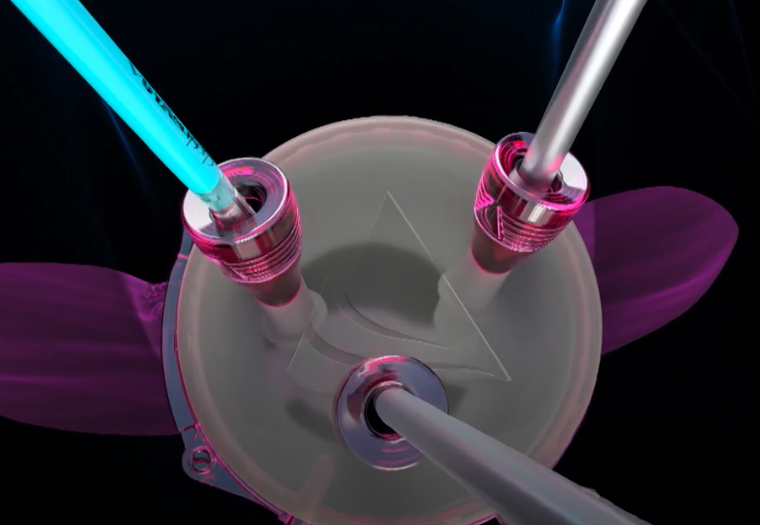 vNOTES is performed under general anesthesia, so you will be asleep during the procedure. The surgeon will make a 2cm incision in the vagina and place the tube-shaped GelPoint device inside, extending it into the pelvis. We leave a cone-shaped section of the device outside the vagina and roll that portion inward, like cuffing a sleeve, until it is secured. This creates a temporarily widened, protective tunnel through the vagina.
Then, we place a cap over the external area, which we will use to inflate the patient's abdomen with carbon dioxide. The inflation makes extra space for the surgeon to access the uterus, fallopian tubes, and ovaries without having to make additional incisions.
The device allows us to use a high-definition camera that projects onto a screen in the operating room, providing a magnified view of the surgical path. Using miniature surgical instruments inserted through the device, we can remove the reproductive organs without external incisions.
Once the surgery is complete, we remove the GelPoint V-Path device and surgical tools and release the gas from your abdomen. While each patient and situation are unique, vNOTES will take about 1-2 hours – slightly less than other hysterectomy methods. Most patients go home within 24 hours after surgery, often the same day.
Because there is no abdominal incision, most patients have less postoperative pain. Many of our patients manage the discomfort with over-the-counter medication or just one or two prescription pain pills.
While you likely will be able to resume most normal activities after a week or two, we still recommend that you avoid heavy lifting, vigorous exercise, and sex for six weeks. You may feel like yourself again quickly after vNOTES, but it's important to remember that any type of hysterectomy is a major surgery.
Who may qualify for vNOTES
Many centers only offer traditional or laparoscopic/robotic hysterectomy if a patient needs their ovaries and/or fallopian tubes removed or if they have:
A large uterus due to uterine fibroids
Never given birth
Multiple cesarean (C-section) deliveries
UT Southwestern surgeons have had the expertise to perform vaginal hysterectomies for many of these patients for several years – and I've performed vNOTES hysterectomies on patients who've fit each of these criteria.
vNOTES has allowed our team to perform more than 30% of our patients' hysterectomies vaginally, compared to about 13% nationally. We also use the technology to perform tubal sterilization (tying the tubes) and minimally invasive gynecological surgeries to treat:
Abnormal uterine bleeding
Some patients may not qualify for vNOTES, including those who cannot have anesthesia, have a gynecologic cancer; are pregnant; have an active genitourinary infection; have a history of pelvic inflammatory disease; or have a history of rectal or extensive pelvic surgery. If we identify a mass or blockage during the procedure, we may need to convert to vaginal, open, or laparoscopic surgery.
Teaching the next wave of surgeons to perform vNOTES
Though vNOTES has been in practice for a decade, it is not available at most hospitals. As one of the earliest adopters of vNOTES in the U.S., I'm committed to spreading the word about this important advancement in women's health.
I've been honored to teach this technique to my colleagues at UT Southwestern and fellow gynecologists across the country in the hope that more women have access to the least invasive hysterectomy possible. I've also published articles about the procedure, and will speak about vNOTES at the Southwest Gynecological Association in December 2022.
Every patient is unique. We'll work with you to find the best – and least invasive – hysterectomy or gynecologic procedure option for your condition.
To talk about your gynecological surgery options, call 214-645-8300 or request an appointment online.