Historically, cancer radiation therapy used a "one size fits all" approach: one dosage level was focused at the original tumor field and given at predetermined intervals.
But not all cancers are the same, and each patient responds differently to treatment.
That's why adaptive radiation therapy represents a paradigm shift in cancer care, where a patient's treatment plan is adjusted, or flexes, according to how their tumor responds to radiation doses. The personalized approach to radiation therapy actively shrinks the tumor while limiting side effects on healthy tissue.
PULSAR®, or personalized ultrafractionated stereotactic adaptive radiotherapy, is at the heart of our adaptive radiation therapy program at UT Southwestern and early data from clinical trials suggest it can enhance our ability to safely, effectively treat tumors while reducing morbidity. PULSAR technology may even provoke an immune response, increasing the patient's natural ability to fight the cancer.
PULSAR starts with a large "pulse" of radiation therapy, which we can then titrate, or adjust, in subsequent doses depending on how the tumor responds between longer treatment intervals.
With this adaptive approach, each treatment informs the next, and as the tumor shrinks, we can radiate an increasingly smaller field, sparing healthy tissue and reducing toxicity.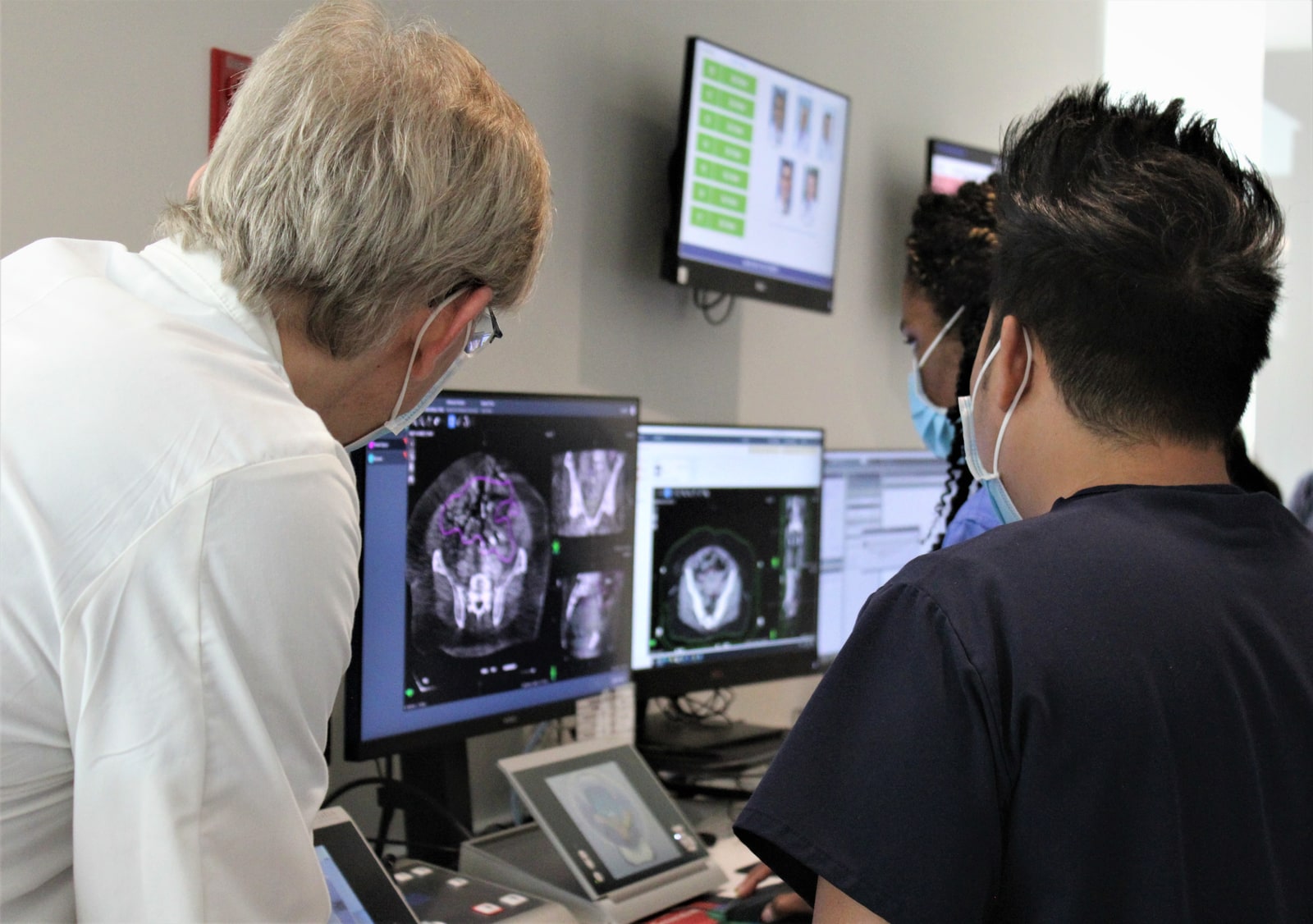 SAbR was the original precision medicine approach for focused radiation therapy, offering patients more precise and targeted treatment, less damage to healthy tissue, and fewer clinic visits. SAbR effectively shrinks many types of tumors, including in the:
Adrenal glands
Bones
Kidneys
Liver
Lungs
Pancreas
Spine
PULSAR takes the precision of SAbR to the next level.
Through state-of-the-art imaging technology, we can monitor a tumor between treatments to analyze how previous doses changed its size and shape:
If the tumor shrank, we can titrate the next treatment to a lower dose and smaller radiation field.
If it stayed the about same size, we might increase the dose and expand the radiation field.
Our hope is to use PULSAR to treat similar cancer types as SAbR, and potentially more in the future.
Cancer, like any invasive disease, can "outsmart" consistent treatment, developing ways to skirt its effectiveness. PULSAR's adaptive methodology has the potential to keep the tumor "on its toes" by changing the radiation's intensity, frequency, and field of treatment.
Early clinical data suggest this "gotcha" method may also lead to adaptive immunity – when the patient's own immune system learns to seek and destroy their particular type of cancer.
Adaptive immunity from adaptive therapy
Adaptive immunity arises as part of the body's natural response to an infection or vaccination. Exposure to a disease spurs an internal defense response by the immune system to build T-cells, which recognize and kill specific disease cells – potentially including cancer cells.
Our clinical data, published in the International Journal of Radiation Oncology, Biology, Physics, suggest that patients' immune systems may generate antibodies against their cancer types during the intervals between "pulses" of treatment. Titrated, long-interval radiation also may change tumors from "cold" to "hot" – undetectable to detectable by T-cells – in the immune system.
While more data are needed, it is possible that previous radiation therapy methods did not generate an immune response because treatment intervals were too short for T-cells to grow.
New facility dedicated solely to radiation therapy
We firmly believe that adaptive radiation therapy will redefine not only the effectiveness of radiation treatment but also the patient experience. UT Southwestern is so committed to adaptive radiation therapy that we have recently completed a 71,000 square-foot expansion of our Radiation Oncology Building and PULSAR is integrated throughout.
The center features the world's most up-to-date imaging and diagnostic technology, including:
RefleXion: This advanced radiotherapy machine integrates PET scan technology and patient-specific therapeutic beams (linacs) to conduct biology-guided radiotherapy (BgRT) – radiation therapy that is personalized to a patient's anatomy using real-time tumor tracking. UT Southwestern is one of two centers in the world to pioneer the use of this technology.
Ethos: An artificial intelligence-assisted radiation machine that delivers fast, high-quality CT images to enable adaptive treatment planning.
Unity linear accelerator: A custom radiation therapy machine combined with diagnostic MRI-level imaging that offers real-time soft-tissue visualization as detailed as a CT scan.
The adaptive capability of our new site offers patients quicker and more convenient radiation therapy – PULSAR reduces treatment planning from a week to a day. In some cases, our multidisciplinary team can replan treatment while patients are in the clinic. Explore the Radiation Oncology Clinic [PDF].
The future of cancer treatment, today
UT Southwestern continues to develop and deliver radiation innovations to our patients. From our roots in SAbR to novel adaptive therapies, patients benefit from the leading-edge research, technology, and clinical applications that originate from our radiation oncology team.
The future of cancer treatment lies in adaptive, personalized therapies such as PULSAR. While one-size-fits-all cancer therapies can defeat tumors, there are vast opportunities to reduce toxicity, treatment duration, and damage to healthy tissue without sacrificing effectiveness.
There is no "good enough" when it comes to refining radiation therapy. Our goal is to provide the best, most personalized care to every patient – and we work toward that goal every day through innovative applications of proven clinical research.
To find out whether you or a loved one might benefit from adaptive radiation therapy, call 214-645-8525 or request an appointment online.
UT Southwestern Radiation Oncology Building by the numbers
49 exam rooms
14 advanced imaging and treatment machines
2 CT simulators/AIRO
MR simulator
High-dose-rate brachytherapy suite
Xstrahl treatment machine
GammaPod treatment machine for breast cancer
2 minor procedure rooms
Patient support room
2 children's areas
Cafeteria