Harold C. Simmons Comprehensive Cancer Center
EMBRACE Survivorship Symposium
New Patient Appointment or 214-645-8300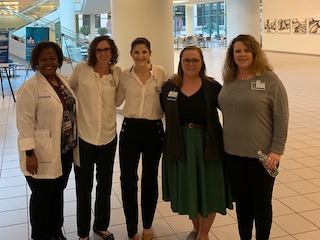 We believe surviving cancer begins the day of diagnosis and continues every day thereafter. Our goal is to help you maintain your overall health and well-being during your cancer treatment. EMBRACE Survivorship is a series of workshops facilitated by your Support Services team that addresses physical, emotional, and practical issues that can arise during and after treatment.
Virtual sessions will take place from noon to 1:30 p.m. every Tuesday via Zoom.
Reservations are required to receive the Zoom link.
Please RSVP to Alex Huffman, Manager of Support Services, at SCCCSupport@utsouthwestern.edu or 214-645-2742.
Embrace stands for:
Energy
Mind
Body
Relationships
Active Nutrition
Creative
Expression
Tuesday, March 23
Huddle Up: A Team Approach to Your Cancer Care Journey
Lauren Dement, RN, BSN, BBA, CCTC; and Tam Burks, RN, OCN
Will have the presentation focused on team approach to cancer care. Will highlight such topics as: clinical team, support services team, financial team. We will also provide information on resources as it relates to the patient and caregiver.
Tuesday, March 30
Cancer and Nutrition: Sorting Food Fact from Food Fiction
Kathleen Kinder, MS, RD, CSO, LD, CNSC; and Kathryn Kanter, MS, RD, LD
Navigating the large amount of nutrition information from the internet and by loved ones can be confusing and overwhelming. In addition, the constant bombardment of diet-related headlines on TV and opinions on our social media platforms can wear patients and caregivers down, both mentally and emotionally. Our clinical oncology dietitians are here to help sort through the facts, fads, and falsities to give patients and caregivers a clearer understanding of the role nutrition plays with a cancer diagnosis.
Tuesday, April 6
Lymphedema and Physical Activity: During and After Cancer Treatment
Lindsay DeRose, OTR, CSRS, CLT-LANA; and Cindy Dolezal, D.P.T., PT
This presentation will include information regarding the prevention and treatment of lymphedema in relation to cancer, as well as the benefits of physical activity for sustained wellness during and after cancer treatment.
Tuesday, April 13
Caring for the Caregiver
Catherine Credeur, LMSW, OSW-C, FAOSW; and Dinah Foster, MSSW, LCSW, OSW-C
As a caregiver, you are an indispensable part of the care team. It is vital that your well-being is also addressed. Recognizing the physical, emotional, and mental toil of caregiving and being able to seek support is an important part of sustaining you in your family caregiver role. Learning new techniques for self-care, connecting with other family caregivers, and reviewing the ongoing supports available within the SCCC and community are key to this presentation.
Tuesday, April 20
Knowledge Is Power: Advance Care Planning 101
Katie Pool, LMSW, OSW-C; and Hailey Wilshire, LMSW
It's daunting to make big decisions on the fly. This introduction to advance care planning will help you learn about the types of decisions that might need to be made, consider these decisions ahead of time, and inform your family and health care providers of your preferences.
Tuesday, April 27
Managing Stress and Anxiety through Mindfulness
Jack Hamilton, LCSW, OSW-C; and Tammy Wynn, M-Div, BCC.
Mindfulness can be powerful tool for reducing anxiety and stress. Many people engage in these practices to calm the mind and improve well-being. In this experiential session, you'll learn techniques of deep breathing as well as other techniques that can help you manage your stress and anxiety and improve your quality of life. Mindfulness is simply a state of mind, not owned by any form of spirituality or religious dogma. It is truly a secular tool but it can also be used to deepen your own spiritual path.