Harold C. Simmons Comprehensive Cancer Center
EMBRACE Survivorship Symposium
To help keep our patients, families, and staff safe from the spread of infection, we have canceled classes and support groups through March and April.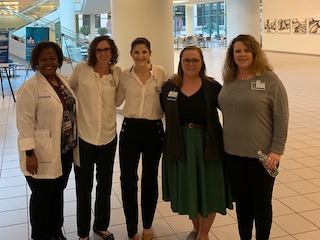 EMBRACE is a half-day survivorship symposium that's designed to assist patients and their families with physical, emotional, and practical issues that can arise during their cancer journey. 
Our spring symposium will be held on Saturday, April 4th, 2020, and our fall symposium will be held on Saturday, October 17th, 2020. A continental breakfast will be available at 8:30am, and lunch will be provided. It will be located at the Radiation Oncology Building, 2280 Inwood Road, Dallas, Texas 75390.

Embrace stands for:
Energy

Mind

Body

Relationships

Active Nutrition

Creative

Expression
Topics to be covered include:
The How, When, & Why of Sharing Your Diagnosis with Friends, Family, and Co-workers

Secrets to the Maze -- Cancer Basics to Help You through Treatment
Physical Activity, Pre-habilitation, and Lymphedema 

Riding the Spiritual Roller Coaster: Harnessing Support and Boosting Inner Strength

Nutrition Hot Topics and Myth Busters
Managing Stress through Music and Mindfulness