Harold C. Simmons Comprehensive Cancer Center
EMBRACE Survivorship Symposium
New Patient Appointment or 214-645-8300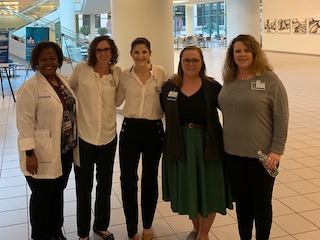 We believe surviving cancer begins the day of diagnosis and continues every day thereafter. Our goal is to help you maintain your overall health and well-being during your cancer treatment. EMBRACE Survivorship is a series of workshops facilitated by your Support Services team that addresses physical, emotional, and practical issues that can arise during and after treatment.
Virtual sessions will take place from noon to 1:30 p.m. every Tuesday via Zoom.
Reservations are required to receive the Zoom link.
Please RSVP to Alex Huffman, Manager of Support Services, at SCCCSupport@utsouthwestern.edu or 214-645-2742.
Energy
Mind
Body
Relationships
Active Nutrition
Creative
Expression
Tuesday, September 14
Oncology Nutrition: Hot Topics and Recommendations
Shelli Hardy, MCN, RD, CSO, LD and Mara Pineau, M.S., RD, LD
Join our oncology dietitians, Mara Pineau and Shelli Hardy, to explore the myths, the truths, and their nutrition recommendations for cancer prevention. Let your food fears become a thing of the past as your nutrition knowledge grows.
Tuesday, September 21
FMLA, SSI, & COBRA, Oh My!
Andrea Wright, LMSW, OSW-C, and Sarah Culver, LCSW, CCM
Join us as we briefly review and decode common employment and disability related acronyms. Whether you are working during treatment or need to take some time off, you will probably encounter at least one of these programs. Highlighted topics will include FMLA, COBRA, STD, LTD, SSDI, SSI, & ACA.
Tuesday, September 28
Coping for Couples and Families
Connie Cornwell, M.A., LMFT-S, LPC-S, and Kim Keely, LCSW
A cancer diagnosis can be the unwelcome guest in a home or relationship. Please join us as we talk about how an unexpected illness can impact the connection between loved ones and learn a few ways to address it together. Resources will be provided for couples, children, and adult families.
Tuesday, October 5
Lymphedema and Physical Activity: During and After Cancer Treatment
Maddi Mills, OTR, CLT-LANA, CWS; and Cindy Dolezal, D.P.T., PT
This presentation will include information regarding the prevention and treatment of lymphedema in relation to cancer, as well as the benefits of physical activity for sustained wellness during and after cancer treatment.
Tuesday, October 12
Healing through Expressive Writing
Dinah Foster, LCSW, OSW-C and Alex Huffman, LCSW, OSW-C
When we experience a stressful event like a cancer diagnosis, it's easy to ruminate over that experience; thinking about it can keep us up at night, distract us from work, and make us feel less connected to others. Expressive writing allows us to step back for a moment and evaluate our lives and our reactions to the experience. Through writing, we can become active creators of our own life stories and as a result feel more empowered to cope with challenges. In this session, we will inform participants of the evidence supporting expressive writing and introduce writing prompts to explore as a group.
Tuesday, October 19
Spiritual Wellness and Resiliency: Experiencing a Spiritual Awakening after a Cancer Diagnosis
Tammy Wynn, M-Div, BCC and Sylvia Artiles, M.A.
National Cancer Institute says a cancer diagnosis often encompasses not just physical but also social, emotional and spiritual stress. Learn how to lessen the stress effects of a cancer diagnosis and incorporate resources for life that may be a spiritual awakening for some or at least a great reminder for many. Join Board Certified Chaplain Tammy Wynn, M-Div and Sylvia Artiles, M.A., Simmons Oncology Spiritual Care Professionals for Embrace session.