Harold C. Simmons Comprehensive Cancer Center
EMBRACE Symposium
New Patient Appointment or 214-645-8300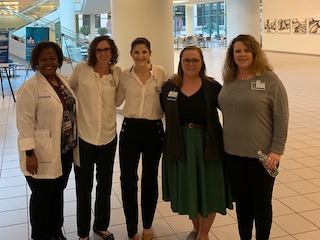 EMBRACE Survivorship Series 2022
E - Energy
M - Mind
B - Body
R - Relationships
A - Active Nutrition
C - Creative
E - Expression
We believe surviving cancer begins the day of diagnosis and continues every day thereafter. Our goal is to help you maintain your overall health and well-being during your cancer treatment. EMBRACE is a series of workshops facilitated by your Support Services team that address physical, emotional, and practical issues that can arise during and after treatment.
Virtual sessions will take place on the second Tuesday of the month from noon to 1:30 p.m. via Zoom.
Topics to be covered include:
January - Exercise During and After Treatment
February - Legacy: The Art of Memory and Meaning-Making
March - Empowering Children through a Loved One's Cancer Experience
April - Pros and Cons of Supplements
May - Mindfulness as a Spiritual Practice and Techniques to Help Reduce Anxiety and Stress
June - Scanxiety and Fear of Recurrence
July - Lymphedema Prevention and Identification
August - Techniques and Tips for Skin and Hair Care after Treatment
September - Sexual Health During and After Treatment
October - Managing Chemo Side Effects
November - Spiritual Coping through the Holidays
December - Navigating the Waters of a Cancer Diagnosis
Reservations are required to receive the Zoom link. RSVP here.
Feel free to email SCCCSupport@utsouthwestern.edu or call Alex Huffman, LCSW, OSW-C, Manager of Support Services, at 214-645-2742 with questions.