Harold C. Simmons Comprehensive Cancer Center
EMBRACE Survivorship Symposium
New Patient Appointment or 214-645-8300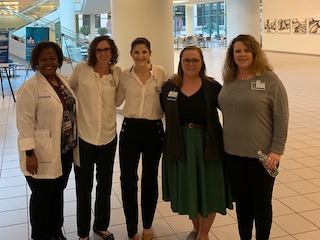 We believe surviving cancer begins the day of diagnosis and continues every day thereafter. Our goal is to help you maintain your overall health and well-being during your cancer treatment. EMBRACE Survivorship is a series of workshops facilitated by your Support Services team that addresses physical, emotional, and practical issues that can arise during and after treatment.
Beginning September 15, virtual sessions will take place from noon to 1:30 p.m. every Tuesday via Zoom.
Reservations are required to receive the Zoom link.
Please RSVP to Alex Huffman, Manager of Support Services, at SCCCSupport@utsouthwestern.edu or 214-645-2742.
Embrace stands for:
Energy
Mind
Body
Relationships
Active Nutrition
Creative
Expression
Tuesday, September 15
Nutrition: Facts, Fads, and Moving Forward
Darienne Hall, M.C.N., RD, CSO, LD; and Michelle Hamilton, M.C.N., RD, CSO, LD
Do you want to eat "healthier" throughout your treatment and beyond but find there is a lot of confusion about which recommendations are based on fact, fiction, or the latest fad? Listen to our registered dietitians, board certified in oncology nutrition, as they present the most up-to-date information and evidence-based recommendations on nutrition and positive lifestyle changes for people with cancer. We'll help you move forward with more confidence to reach your nutrition goals.
Tuesday, September 22
Lymphedema and Physical Activity: During and After Cancer Treatment
Lindsay DeRose, OTR, CSRS, CLT-LANA; and Cindy Dolezal, D.P.T., PT
This presentation will include information regarding the prevention and treatment of lymphedema in relation to cancer, as well as the benefits of physical activity for sustained wellness during and after cancer treatment.
Tuesday, September 29
Caring for the Caregiver
Dinah Foster, LCSW, OSW-C; and Catherine Credeur, LMSW, OSW-C
As a caregiver, you are an indispensable part of the care team. It is vital that your health and well-being are also addressed throughout the cancer experience. Acknowledging the burden put on you as a caregiver and educating yourself to recognize the symptoms of caregiver burnout are critical. Learning new techniques for self-care and reviewing ways to cope with the stressors involved in your role are key to this presentation.
Tuesday, October 6
More Than Just the Physical: Healing Our Entire Selves
Tammy Wynn, M.Div., BCC; and Sylvia Artiles, MA
Because a cancer diagnosis has sweeping effects on every contour of life – physical, emotional, and spiritual – how do we bring healing to our inner selves and our loved ones? Join us as we explore strategies and sources of healing and harnessing an overall sense of health, well-being, and newness of life.
Tuesday, October 13
The How, When, and Why of Sharing Your Diagnosis with Family, Friends, and Work
Alexis Early, LCSW, ACM-SW; and Sharon Tavenner, M.S.W., LCSW
Being diagnosed with cancer is an overwhelming experience, so it's normal to be overcome with an array of emotions, including sadness, fear, and anxiety. As you mentally and emotionally process your diagnosis, you may wonder about when, how, and with whom to share the news. This session will seek to provide you with beneficial tools and strategies to help you through the process with confidence.
Tuesday, October 20
Secrets to the Maze: Cancer Basics to Help You Through Treatment
Patty Weimer, RN, OCN; and Jennifer Speas, RN, OCN
Whether you are newly diagnosed, new to our cancer center, or a seasoned survivor, you're invited as we present the basics of cancer – from its definition to its treatments – and detail who's on your team. We'll discuss how UT Southwestern's Harold C. Simmoms Comprehensive Cancer Center is different from other cancer centers, why our NCI designation is important, and what clinical trials entail. We'll finish up by divulging a few "secrets" to help you find your way around our center, minimize the time you have to spend here, and communicate with your team in the most effective way possible.
Tuesday, October 27
Managing Stress and Anxiety Through Music and Mindfulness
Jack Hamilton, LCSW, OSW-C; and Kamica King, MA, MT-BC
Mindfulness and music therapy can be powerful tools for reducing anxiety and stress. Many people engage in these practices to calm the mind and improve well-being. In this experiential session, you'll learn techniques of deep breathing as well as the roles that music and music therapy can play in improving your quality of life.